By Mary Klein, diocesan archivist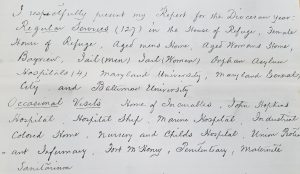 The Johns Hopkins Hospital was completed in 1889, and in the Rev. George Leakin's report of 1890 (which outlined the work he had done in 1889 as the Chaplain to Institutions in Baltimore) he mentioned that he had made visits to the hospital. So right from the beginning, the Episcopal Church has maintained a ministry in connection with Johns Hopkins Hospital. George Leakin continued to make visits to the hospital until his retirement at age 80 in 1898.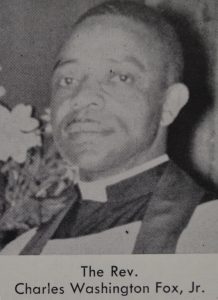 In 1948, Bishop Noble Powell noted that the chairmanship of the Commission on Ministry to Institutions, which had been held for more than 15 years by the Rev. Philip Jensen, was vacant, putting that office back to 1933, at least, indicating the diocese's continuing commitment to hospital chaplaincies. In 1951, the Commission reported that "Only at Crownsville and at the Johns Hopkins Hospital are our White and Negro clergy serving the same institution"; and from 1975-1980, the Rev. Charles Fox, an energetic and well-known African-American priest, was listed as the chaplain to Johns Hopkins Hospital. During the 1960's through the 1990's, among those listed as chaplains to Johns Hopkins Hospital included Phoebe Coe, Tomlin Crowder, Rebecca Dinan, Michael Schirmacher, Grady Barbour, Milburn Bohannan, Andrew Barasda, Rovan Wernsdorfer and Herman diBrandi.
This important international hospital is still served by an Episcopal chaplain, and is supported, in part, by the Bishops' Annual Ministries Appeal.