by Mary Klein, diocesan archivist
The procession of bishops at the closing Eucharist of the General Convention of the Episcopal Church of 1862, did not include the Presiding Bishop, John Henry Hopkins of Vermont. He entered the chancel from the sacristy of Trinity Church, Wall Street, New York City, after the reading of the Pastoral Letter by the Bishop of Ohio. What was the cause of this extraordinary occurrence?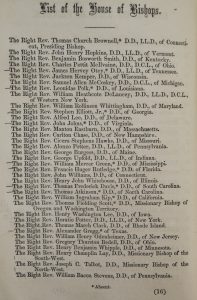 When General Convention began on October 1, 1862, America's Civil War had been raging for eighteen months, and the bishops from the seceded states were marked as "not in attendance", but still included in the list of bishops. (Except for Richard Wilmer, who had been consecrated Bishop of Alabama, after the Episcopal Church in the Confederate States of America had been formed, an act condemned by General Convention as "irregular, uncanonical and schismatical".) The Rev. George Leeds, deputy from Philadephia, who would move to Baltimore in 1867 and become rector of Grace Church, bemoaned the missing bishops saying, "As deeply as we deplore this unhappy strife, in which, also, we recognize the just judgment of God for our many sins… we will not abandon the hope that our absent brethren, guided by the grace of God, will retrace this step for the honor of his name and the benefit of his holy Church."
While the matter of Wilmer's consecration was obviously a church matter to be brought before General Convention, the larger issue was the inclusion of any discussion of the Civil War, which was seen by many as a political issue, not to be mingled with strictly church business.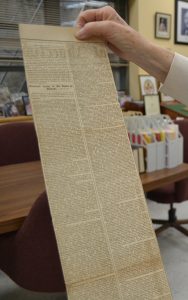 A committee of the five oldest bishops had been appointed to write the Pastoral Letter for the 1862 General Convention, and Presiding Bishop Hopkins of Vermont, as Chair of the committee, wrote and read the letter to the committee, which approved it unanimously. However, a few days later, the Bishop of Ohio, Charles McIlvaine, asked that the committee meet again. He had written another version of the Pastoral Letter, and wanted it to be presented to the House of Bishops so that they could decide between the two. When both letters had been read to the House of Bishops, Bishop Whittingham of Maryland moved that the letter written by the Bishop of Ohio be the official Pastoral Letter of the House of Bishops. The motion passed, and that letter was to be read in all Episcopal Churches in the country on an appointed date. Then the real debate began. Some said that McIlvaine's letter was a "political manifesto", and had no place at a church convention. Bishop Hopkins wrote a Protest, saying "We stand opposed, in this country, to any union between Church and State. As Bishops we have no right to express any opinion upon the measures of our secular government." Many Deputies, both Clerical and Lay agreed with him.
The long Pastoral Letter, which was to be read in all churches on Sunday, October 19, contained, among other things this injunction: "Gladly would your bishops avoid a subject so painful. But there is no possibility in avoiding it. Our silence would speak far and wide… But do not allow any bitterness of spirit to dwell in you toward those who have brought on this war, with its great injuries and calamities, or who are now waging it against us. To hate rebellion is duty, but to hate those engaged therein is the opposite of Christian duty." The final paragraph prays for a restoration of unity, adding "Pray that those who have sought to depart from us may speedily and happily be reunited with us in the bonds of Christian, as well as national fellowship; and that all bitterness and wrath and anger and clamor and evil-speaking may be put away from us and them."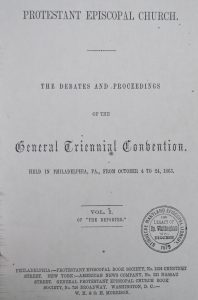 When General Convention next met October 4-24, 1865, in Philadelphia, there were many, especially in the House of Clerical and Lay Deputies, who thought some punishment should be meted out to the Southern bishops for their "sin of rebellion". But Bishop Whittingham insisted that all the bishops from the former Confederate States be welcomed back with open arms, and no recriminations. Here is an excerpt from Bishop Whittingham's "private memoranda" journal for Wednesday, October 5: "On going to church at ½ past nine, I met Bishop Quintard of Tennessee… warmly I saluted him. After being some time in the place of assemblage of the Bishops, Bishop Howe comes to me and tells me that Bishop Atkinson (of North Carolina) is on the front steps of the church and declines to come in. I go to him and urge him to join us, but find him afraid of the construction likely to be put upon his appearance among us by his Southern brethren." Later in the day, Whittingham noted that "the bishops of North Carolina and Southwest Mississippi were below, earnestly desiring to join this House, but unable to do so, in their judgment, without some invitation from this House, by which they could justify themselves with their brethren of Southern dioceses."
Bishop Whittingham joyously wrote to his wife Hannah on October 6, "The reunion of the church is now thoroughly assured; North Carolina, Arkansas, Tennessee and Texas all being represented in both Houses. We had quite a touching scene yesterday in the House (of Bishops) in the entrance at Atkinson (North Carolina) and Lay (Missionary Bishop of Arkansas and the Indian Territory, known as the Southwest Mission), ushered in by Bishop Potter (of New York). Today, on the news of the Southern Missionary bishop having again taken his place in the House of Bishops, it broke into the Gloria in Excelsis." Some years later a younger bishop wrote to him, "You kept my anti-secession feelings, and that of others, from making the breach wider. I am truly grateful that I was restrained."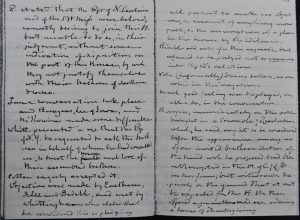 The business of reunion and reconciliation is never easy, but if our Bishop Whittingham can be remembered as being instrumental in reuniting the Church after years of hatred and turmoil, he should also be remembered as an example of charity and generosity.