by Mary Klein, diocesan archivist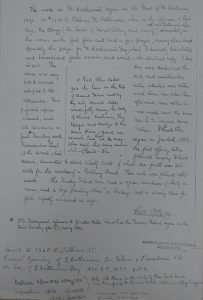 From the first-hand account of the founding of the Church of St. Katharine of Alexandria, written by the Rev. Walter Clayton Clapp; "The work of St. Katharine's began on the Feast of St. Katharine [November 25], 1891 at 1350 N. Calhoun Street, Baltimore, when in the afternoon of that day, the clergy (the rector of Mount Calvary and myself) with some Sisters and others, assembled in the rooms on the first floor and said a few prayers, among them and specially, the prayer for St. Katharine's Day, which I hurriedly translated and transcribed for the occasion. The day was dark; and the house was very dirty and unattractive, but it seemed better situated and better adapted to the work than any other then obtainable. Soon afterward some rather superficial repairs were made and the house cleaned, and Mrs. E.L. Sargent came into residence as Matron. The first Sunday work began on the First Sunday after Epiphany, January11, 1892. I remember that the first offering taken at the service which followed the Sunday School session amounted to about twenty cents, of which one-fourth was set aside for the nucleus of a Building Fund. This rule followed afterwards. The Sunday School soon had a regular attendance of thirty or more, and a boys' painting class on Fridays and a sewing class for girls rapidly increased in size."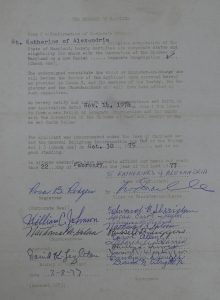 Parochial reports of the 1890's listed St. Katharine's as a mission of the Church of St. Mary the Virgin, itself a mission of Mt. Calvary Church. The 1892 report from the Archdeacon of Annapolis stated, "The new Mission of St. Katharine in Calhoun Street, under the able superintendence of Mrs. Sargent, as a Mission of St. Mary's, has been most successful in the few months it has been open. One of the most interesting features of the work being that the workers are entirely recruited from the communicants of St. Mary the Virgin." In addition to the sewing school for girls, an "Industrial School" helped women gain skills they could translate into employment,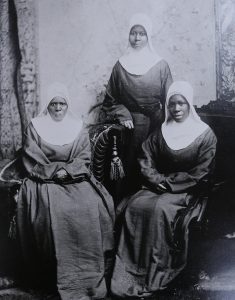 The mission moved a few doors away, to 1360 North Calhoun Street, in1895, and in 1899 relocated to a house at Gilmor and Presstman Streets. The Sisterhood of St. Mary and All Saints, a group of African-American nuns raised up by the All Saints' Sisters of the Poor, opened St. Katharine's Home for Colored Girls at 2000 Druid Hill Avenue. Two of the St. Mary and All Saints' Sisters, Leila Mary and Babetta Francis, assisted by an English Sister Petronella, provided the administration of the orphanage. As the Black sisterhood failed to gain more members, it virtually disbanded by 1911, and the All Saints' Sisters of the Poor took charge of St. Katharine's orphanage, which ran until 1935. On April 1, 1994, St. Katharine's Memorial park was dedicated on the site where the Home once stood, a legacy of peace and love to the neighborhood.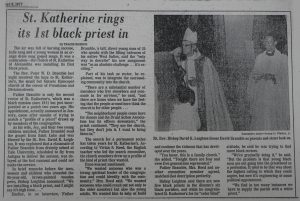 Mt. Calvary purchased the former St. George's Church, at the corner of Presstman and Division Streets, which was built in 1882 as a memorial to Bishop Whittingham, for the congregation of St. Katharine in 1910, and the building was rededicated as St. Katharine's in 1912. Gaining independent status in 1975, the parish called its first black priest, the Rev. Peter Bramble, in 1977. Mt. Calvary transferred the deed for St. Katharine's Church to ownership of the vestry in 1996, and the church still has a mission to the neighborhood, although many of its members no longer live in close proximity. Neighborhood outreach remains a goal, continuing in the original intent of the founders.