by Mary Klein, diocesan archivist
In 1840, John Nelson McJilton, who had worked as a teacher at Baltimore's Male School #1, and as editor of a literary magazine, began serving as lay reader at St. James' First African Church, then located at the southeast corner of Guilford and Saratoga Streets. In his first parochial report published in the 1841 Convention Journal, he wrote, "This is the only place in the city where the colored population, amounting to more than twenty-one thousand, are favored with the services of the church, and the want of a permanent rector for several years, has mitigated against its prosperity." He reported 23 communicants, and a Sunday School consisting of 58 males and 84 females, taught by 5 men and 9 women.
McJilton, ordained to the diaconate on July 20, 1841, was appointed to Christ Church as assistant minister, with responsibilities both at St. James' and a mission congregation in the northeast of the city. Bishop Whittingham praised McJilton in his 1842 report to Convention. "Christ Church's indefatigable assistant minister …is supplying the destitute colored congregation of St. James with the ministrations of the Gospel." Shortly after his ordination to the diaconate, McJilton was named rector of St. James', where he stayed until 1857. Before the newly-elected Bishop Whittingham appointed McJilton to St. James', the congregation had been held together for years by one of their own members, a lay reader by the name of Elie (or Eli) Worthington Stokes.
Whittingham had been in Maryland only a month when Stokes wrote to the new bishop, thanking him for the "privilege of continuing my study for the most sacred office of a minister." Although he had been a candidate for ordination since 1838, Stokes told the bishop that he had no one to oversee his education or to whom he could go with questions. "All the knowledge I have gained in this holy matter has been from my own prayerful study and industry." Whittingham took Stokes under his wing, and in 1843 wrote to the Standing Committee, "I have had many interviews with Stokes, and have repeatedly examined him in his studies, and have inspected several sermons of his composition." Whittingham's questioned whether Stokes had been exempted from Latin, Greek and Hebrew, as some men had been. The Standing Committee wrote back to say that if Stokes could get the required testimonials recommending him to the bishop for ordination, he should be ordained under Canon IX, Section 4, which provided for the "dispensation or exemption" from certain academic qualifications. The rector of St. James', John McJilton, and vestrymen Richard Mason, Edward Hollin, Philip Myers, H.H. Webb, William Maddox, G.C. Whipper and Romeo Price endorsed Stokes saying, "Eli W. Stokes for the three years past hath lived piously, soberly, and honestly; and hath not, so far as we know or believe, written, taught or held any thing contrary to the doctrine or discipline of the Protestant Episcopal Church." Stokes was examined for ordination by McJilton and the Rev. J.P.K. Henshaw, the rector of St. Paul's Church, who had originally recommended Stokes for the ordination process in 1838, and endorsed by the examining chaplains, which consisted of five other priests. Consequently on October 1, 1843, Elie Worthington Stokes was ordained a deacon at St. James' Church by Bishop Whittingham. That afternoon he read Evening Prayer and preached at St. James', continuing as assistant to McJilton until November of 1844, .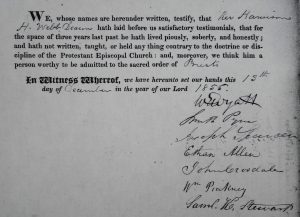 Earlier, on March 2, 1843, the bishop had made the following entry in his daily journal: "Received from the vestry of St. James' First African Church a request to appoint Harrison H. Webb (a colored man) Lay Reader to assist the rector in the services of the congregation. The Rev. Mr. McJilton concurring in the request, and strongly recommending H.H. Webb as in all respects fit and worthy, I accordingly licensed Harrison H. Webb, a lay communicant of good standing, to perform the service of the church in St. James' First African Church, Baltimore, in the absence of the rector, and under his direction and advice." (Being a licensed Lay Reader meant that in the absence of the rector, the Lay Reader could lead Morning Prayer and preach from selected authorized sermons.) The following Sunday, the First Sunday in Lent, March 5, 1843, the bishop confirmed Harrison H. Webb, and two years later McJilton, the vestry of St. James' along with five other clergy recommended Webb to the Standing Committee as a candidate for Holy Orders. Although Webb was obviously educated, (He was a teacher at the school which St. James' ran from their church basement) he was asked to be admitted "under section 4 of Canon 9 of 1841 which provides that the knowledge of the Latin and Greek and Hebrew languages, and other branches of learning not strictly ecclesiastical, may be dispensed with." A note was added that he was over 27 years of age.
Bishop Whittingham was out of the country in Europe, hoping for an improvement in his health, for much of 1853. He had arranged for Bishop Whitehouse of Illinois and Bishop Southgate, the retired Bishop of the American Church in the Orient, to make visitations to the diocese to perform episcopal duties in his absence. Accordingly, On April 14, 1853, Bishop Whitehouse examined Harrison Webb, after the committee of examining chaplains, McJilton, Thomas Atkinson, and J. Campbell White, had finished their examinations, and ordained him a deacon in a ceremony at St. James' Church. Webb served as the Assistant to Mr. McJilton; however, neither of them were actually paid in that capacity. McJilton earned his salary as rector of a white parish and chaplain to several institutions, and Webb was paid as a teacher.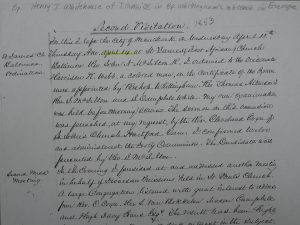 The Rev. Harrison Holmes Webb was ordained to the priesthood by Bishop Whittingham, at St. James' Church, on January 20, 1856, after the requisite testimonials and examinations. The Rev. John McJilton resigned from St. James' Church in 1857, and encouraged the vestry to call Mr. Webb as rector, which they did; but the congregation struggled. Times were very hard following the Civil War, especially in the African-American communities. The Day School had closed, and in his 1867 parochial report, Mr. Webb reported that the Sunday School had closed for lack of teachers, and that his salary had not been paid. "The minister (is) compelled to apply to other resources to obtain his bread. He has received from St. Paul's Parish, $68.00; Emmanuel Church, $30.00; Ascension Church, $17.00; Grace Church, $20.00; and Trinity Church, $5.00.  Total $140.00." Eventually, as his health failed, Webb resigned as rector in 1873.
In his 1879 address to Convention, Bishop Whittingham said, "Another venerable Presbyter, the Rev. Harrison H. Webb, partly of African descent, has been taken at the ripe age of seventy-five, on December 12 last. Deprived of the advantage of liberal education in his youth, he had laboriously qualified himself in riper years for admission to the holy ministry, which he received and exercised for more than twenty years in St. James' African Church in this city. He was never at any period of his ministry independent of his own labor in a secular calling for support, but faithfully and patiently strove, in spite of many difficulties and hindrances, to fulfil [sic] his ministry in which, to the very last, he took supreme delight."
John McJilton encouraged St. James' Church to raise up from her own congregation men for the priesthood, which they did – both before and after the Civil War. He was committed to promoting the rights of African-Americans, as evidenced by his work with the Baltimore City public schools. Elected treasurer to the Board of School Commissioners in 1849, he was an advocate for reform of the school system, and was elected the first Superintendent of Public Instruction in 1867. He established two schools for African-American children in, but because he had not insured a direct appropriation for these specific schools, the City Register refused to pay the bills for teachers' salaries and building maintenance. In a letter to the Baltimore American, McJilton maintained that these schools automatically became a part of the school system, and were entitled to share in the common school funds, but the School Board disagreed with him and fired him. McJilton left Baltimore for New York shortly thereafter.
As models of courage, Eli Stokes, Harrison Webb and John McJilton deserve recognition as leaders in the ongoing struggle for equality and justice in the city of Baltimore, in the Episcopal Church and in our public schools.