by the Rev. Anne Weatherholt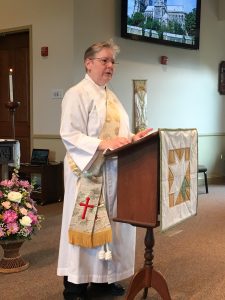 The Rev. Susan M. Wert was ordained as a deacon in The Episcopal Church on Saturday, June 1, at the Cathedral of the Incarnation, Baltimore.  The Right. Rev. Eugene Taylor Sutton, Bishop of Maryland, was the celebrant. Sue was ordained to the Sacred Order of Deacons, those ordained ministers who bring the Church to the world and the world to the Church. She will be assigned St. John's Episcopal Church, Hagerstown, as a "hub" and will be actively promoting outreach and service among the seven Episcopal churches and one school in Washington County.
Sue has been a member of St. Mark's Episcopal Church, Lappans since 2011. She entered the discernment process three years ago, having earned a Masters in Divinity and having completed multiple courses of Clinical Pastoral Education. After an internship at the Church of the Transfiguration in Braddock Heights, and having also completed a social justice internship in Hagerstown, she completed the required Canonical examinations and was approved for ordination.
Sue and her family have lived in the Hagerstown area for many years and Sue currently works at Walmart, assisting with the curbside delivery process. She recently made a mission trip to the Cheyenne Indian Reservation in South Dakota, working for a week with the "Simply Smiles" organization to help with a Day Camp. In the past year she has been a volunteer with REACH, and plans to continue her support of that local organization.
Deacons in The Episcopal Church are assigned by the bishop to "interpret to the Church the needs, concerns, and hopes of the world…to assist the bishop and priests in public worship and in the ministration of God's Word and Sacraments, and …show Christ's people that in serving the helpless they are serving Christ himself." (Book of Common Prayer, page 543).  They wear a distinctive stole as a vestment across the left shoulder, reminiscent of the towel that Jesus used to wash and dry the feet of the disciples at the Last Supper. Along with Laity, Bishops, and Priests, they are part of the four-fold ministry of the Church.
Sue joins two other deacons in Washington County: The Rev. Kirk DeVore serves at St. Thomas' in Hancock, and the Rev. John Cozzoli serves at St. Andrew's in Clear Spring. DeVore was also sponsored into ministry from St. Mark's, Lapppans, and Cozzoli served as Deacon at St. Mark's for more than 10 years.