by Mary Klein, diocesan archivist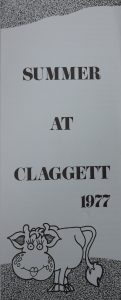 Immediately after its opening in 1952, championed by Maryland's bishop, Noble Powell, the Claggett Camp and Conference Center became a popular place for groups, both church-related and secular, to gather for outdoor recreation and camping fun. The first summer welcomed, Boy Scouts, a provincial Christian Education conference, a Girls' Friendly Society camp, junior and senior high school camps, and the clergy retreat. In 1954, the cost of a week's summer camp for children aged 9 and up was $21.00 (Campers could pay an additional 50 cents for accident and health insurance.), and campers could catch a bus from Frederick to Claggett for 25 cents. By 1956, a week's camp cost ranged from $20 to $30, and an overnight conference charged $5.50. Campers were instructed to "Bring play clothes, soap and a washcloth. Linens are furnished. You will need your Prayer Book and Bible. Bring your swimming suit and a sweater or jacket. A flashlight and camera will be useful." There were Diocesan Family Days, (better known as Claggett Days), clergy quiet days, Sunday School teachers' training conferences, and adult camp sessions. In addition to the original buildings, an outdoor altar was built in 1957.
A 1961 article in the diocesan newspaper, The Communicator, stated that the Claggett Center could host "overnight accommodations for 120 in summer and 65 in cold weather." Powell Hall, which originally had been the home of the Buckingham School, contained the kitchen, some bedrooms, a library, and dining hall. St. Andrew's Chapel had been created from the old Buckingham's School gym; the swimming pool, a lake stocked with fish, an arts and crafts building, and an infirmary rounded out the facility on the camp side, and there was also a herd of 60 cattle. An expansion of the herd was planned, as well as an additional building.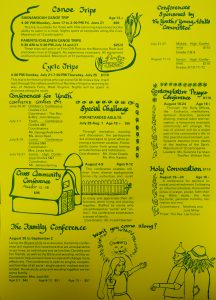 The conference schedule for 1977 included an "Older Persons" camp for those over 55, youth camps, drama camp and family camp. Costs remained reasonable at $50 per week, although now campers were required to bring their own bed linens, instead of having them supplied. Adventure camps for backpacking, canoeing, and cycling were also on that year's agenda. 1981 boasted "The Holy Convocation", a 2-day weekend for spiritual renewal; "The Cross Community Conference" with participants from inner city, suburban , town and country settings; "The Conference for Retarded Adults" [sic]; "A Week of Shalom" conference for adults to experience "spiritual direction, the Daily Office, the Eucharist, and personal sharing", as well as children's' camps.
Well-known speakers came to Claggett in 1991 to inaugurate an annual "Claggett Address" and a New Year's Conference. The Claggett Address was given by Bishop Orris G. Walker of Long Island, a son of St. James' Church on Lafayette Square in Baltimore; and the New Year's Conference featured Philip Berrigan (One of the Catonsville Nine) and spiritual author Verna Dozier.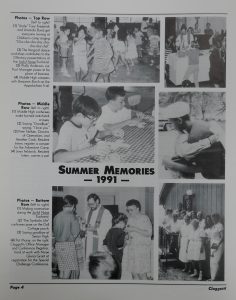 In 1997 the Claggett Board developed a strategic plan, which included a proposal for improvement of the facilities. Between 1997 and 2004, upgrades were made by building a new pool and bathhouse, renovating several cottages, and paving the roads and parking lots. Following a successful capital campaign in 2002, Monocacy Meeting Hall, and Sugarloaf Dining Hall were opened in 2007. The Christiane Inn at Claggett, dedicated in 2014, completed the vision of a conference center capable of accommodating about 250 overnight guests. Today young campers from second-graders to high-school seniors can climb on the ropes course, dive into the pool, navigate the Monocacy River and climb Sugarloaf Mountain. Camp Amazing Grace (for children whose parents are incarcerated), Special Challenge Camp (for high-functioning adults with special needs) are offered; and women's retreats, men's retreats, writers' retreats, and spiritual practices week-ends are only a few of the programs available to adults who want a quiet, thoughtful, well-fed respite from stress.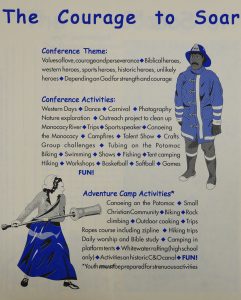 In Bishop Noble Powell's initial description of his hopes and plans for the Claggett Center, he said, "We have tried to make Claggett Center the spiritual center for all, and we have tried to put Jesus Christ at the center of that Center."
Programs at the Claggett Center are supported in part by gifts to the Bishop's Annual Ministry Appeal.