Bishop Harry Lee Doll diary entry, 1957
by Mary Klein, diocesan archivist
When our bishop goes on vacation, he is never far away from his office, no matter where in the world he is. He can be reached by email, text, or phone, in response to emergencies or pressing business. But were our bishops from the past any better able to "get away from it all?"
Bishop Noble Powell (coadjutor, 1941; Diocesan 1944-1963) tried to spend the month of August every year at his cabin near Stanton, Virginia. A 1945 newspaper article gave this description, "… he tries to spend part of each summer with his family in the Virginia mountains where, on Devil's Knob, he has built the cabin he always dreamed of. He would have preferred just to camp, but Mrs. Powell was firm. 'A roof and running water' she said. 'Briarpatch', which the bishop built in large part himself, now boasts two bathrooms." But even at "Briarpatch", Bishop Powell could not escape work. His 1949 vacation was interrupted by an August 23 visit from "a committee of a vestry", and on the 23rd from "a man interested in entering seminary." An entry from his 1952 Journal reads, "Saturday, August 9 – Sunday, August 31; on vacation at my camp. Gave attention to certain matters which the archdeacon sent on to me from time to time. Attended service in the Stanton church."
John Gardner Murray (coadjutor, 1909; Diocesan 1911-1929; presiding Bishop 1925-1929) owned a home in Emmitsburg, Maryland, which he used as a summer residence. Bishop Murray purchased "Stonehurst" about 1910, which included 50 acres of land, a pond and a dock. Now a Bed & Breakfast, "Stonehurst" is described as "beautifully situated on top of a hill that overlooks the mountain from the front porch, and also overlooks the town of Emmetsburg." An excerpt from Bishop Murray's 1912 Journal reads, "Spent month of August on farm at Emmitsburg, visiting city on stated occasions for conferences and attention to diocesan affairs. Wrote 103 letters and dictated 121 official letters." Not much rest and relaxation there!
The Right Rev. Edward Trail Helfenstein (coadjutor, 1926; Diocesan 1929-1944) reported the following in his 1938 Journal, "From the 18th of July to the 12th of August was in Winter Harbor, Maine, all correspondence being promptly attended to." This correspondence included giving consent for the consecration of three bishops, issuing lay reader's licenses, receiving Letters Dimissory, giving consent for a priest to marry a divorced person, and signing a power of attorney.
Even when Bishop William Paret (Diocesan 1885-1911) sailed to Europe he was working. An entry from his 1892 Journal reads, "July 6th – sailed for London by Steamer Mohawk of the Atlantic Transport Line, by kind invitation of Mr. B.N. Baker, President. July 7th – aboard the Steamer Mohawk, in the British Channel, said Evening prayer and preached." Bishop Paret sailed to Rotterdam, Frankenberger Kloster (which is a monastery), Goslar, Rome, Antwerp, Brussels, London, and then back to New York. "August 21st – -on Steamer Manitoba said Morning Prayer." At every stop he participated in, preached or lead services.
Nineteenth-century Bishop William Whittingham (Diocesan 1840-1879) could not escape business whether he was in Orange, New Jersey, visiting family, or in St. Augustine, Florida, recovering from laryngitis, or in England in 1853. Sent away for the summer to recover from fatigue, illness and further throat problems, the mail followed him from port to port in England. He also proof-read publications, preached, gave impromptu lectures, met with the "Propagation Society", which urged him to speak, and read services at stop after stop.
While Harry Lee Doll was Bishop Suffragan, and then coadjutor (1955-1962) he seems to have managed a month's vacation without interruption. His 1957 dairy reads, "July 9 to July 31 on vacation. August 1st. – In office by 9. Hit the mass of stuff on my desk. Spent half the day with the Bishop getting briefed on what was current in the diocese, and the other half digging into mail. Home at 5."
So it seems that modern-day bishops are not the only ones plagued by interruptions during their times of recreation and rest. Perhaps it comes with the territory. The office of chief pastor brings with it unplanned intrusions, even during the best-laid plans for refreshment.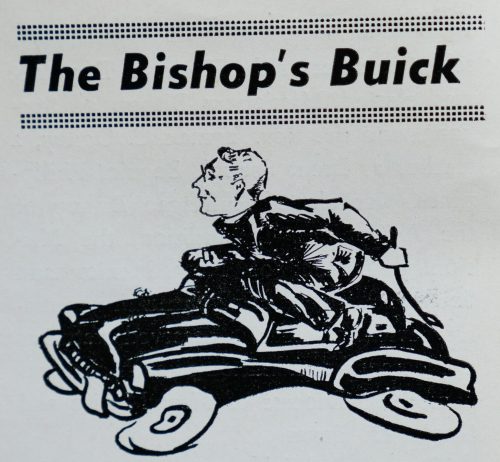 Photo from the Maryland Churchman, October 1952