Letter from Samuel Isaac Joseph Schereschewsky to Bishop Whittingham July 12, 1859
by Mary Klein, diocesan archivist 
Samuel Isaac Joseph Schereschewsky holds the distinction of having the longest name in the list of holy men and women commemorated in the Prayer Book. While not a name that trips off the tongue lightly, Schereschewsky, nevertheless, is a name worth remembering. Elected in 1877 as the Bishop of Shanghai, he spent his life translating the Bible and Prayer Book into Mandarin Chinese and Wenli, the classical Chinese style of writing. Even after he developed Parkinson's disease and became almost totally paralyzed, he completed the last 2000 pages of the Wenli Bible by typing with the one finger he could still move.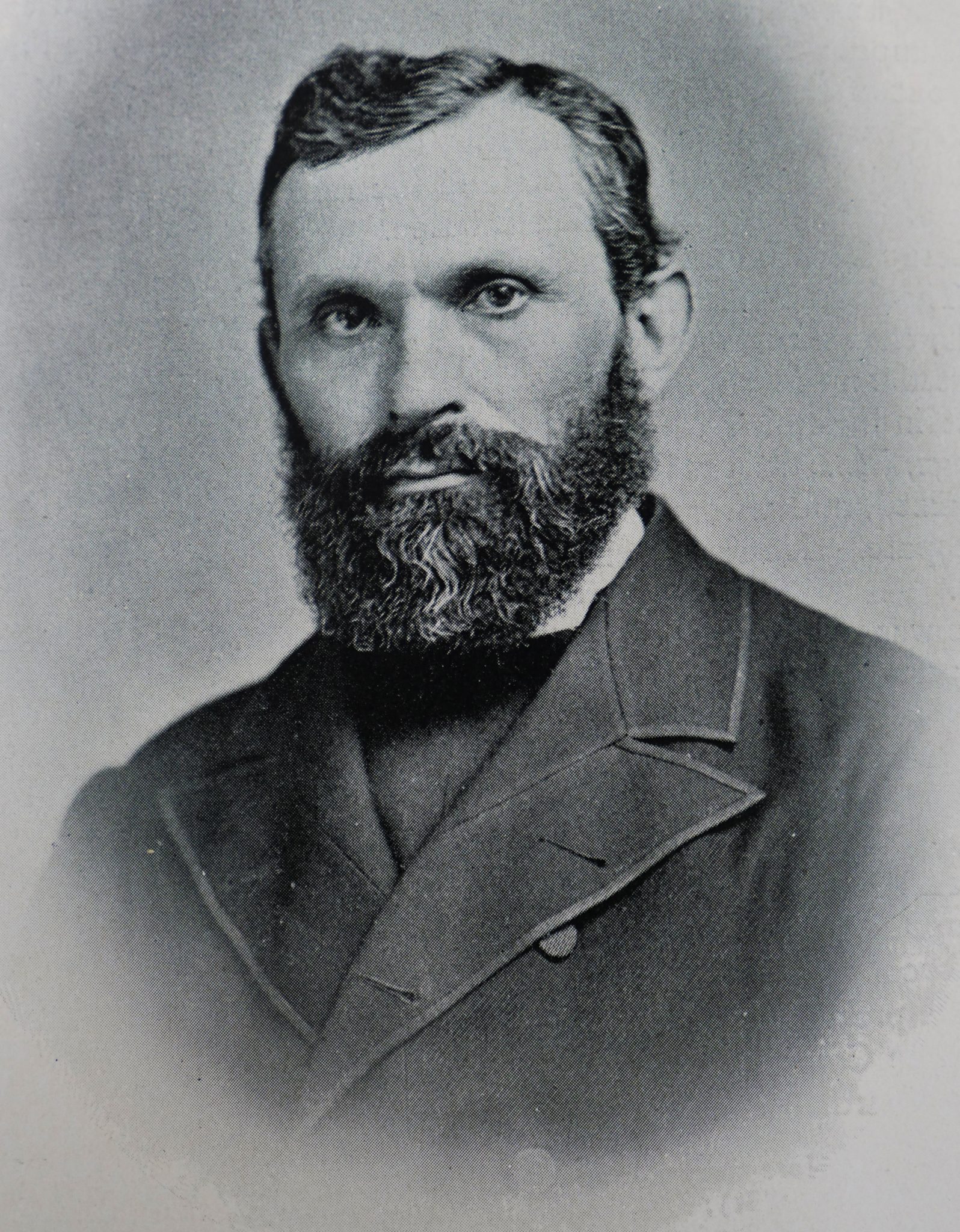 Samuel Isaac Joseph Schereschewsky
Schereschewsky's biographical entries found in books and on the internet are fascinating, but they omit one important fact: his association with the Diocese of Maryland. They all report that he was born in Lithuania in 1831, and studied to become a Rabbi in Russia and Germany. At the University of Breslau, Germany, he was converted to Christianity and came to the United States to further his education. He studied briefly at General Seminary, and was ordained a deacon on July 7, 1859, by Bishop William Jones Boone, the first Missionary Bishop of China. Schereschewsky went immediately to China, and was ordained by Bishop Boone to the priesthood in 1860.
The small, exciting tidbit omitted from this tale is that nearly one year to the day before he was ordained a deacon, Schereschewsky was confirmed by the Bishop of Maryland, William R. Whittingham. As is often the case, while researching another matter, and looking through Bishop Whittingham's confirmation lists, I was struck by seeing a name I knew, but never expected to see in diocesan records. First on the list of six people confirmed at St. James College Chapel on the sixth Sunday after Trinity, July 11, 1858, was Samuel Isaac Joseph Schereschewsky.
Upon further investigation, I found that Schereschewsky was sponsored for seminary by the Diocese of Maryland. When he wanted to go to China with Bishop Boone, Schereschewsky wrote to Bishop Whittingham asking his permission. "Being under your Episcopal care & jurisdiction, I do not feel myself at liberty without your concurrence to make any application to the Board of Missions, or to put myself in a direct correspondence with Bishop Boone. I lay therefore this matter before you for your consideration, hoping to obtain your approval & support." The Archives has eight letters written by Schereschewsky to Bishop Whittingham, which outline his studies at seminary, thank the bishop for his help, make arrangements for Schereschewsky's exams and ordination, and ask for the required testimonials from the Standing Committee.
Global Mission was a commitment shared by Whittingham, Schereschewsky, and the Episcopal Church's Mission Board. Imagine how the mission to China would have been hampered without a translation of the Bible into Mandarin and Wenli! As the collect for the celebration of Samuel Isaac Joseph Schereschewsky's life concludes, "Lead us, we pray, to commit our lives and talents to you, in the confidence that when you give your servants any work to do, you also supply the strength to do it."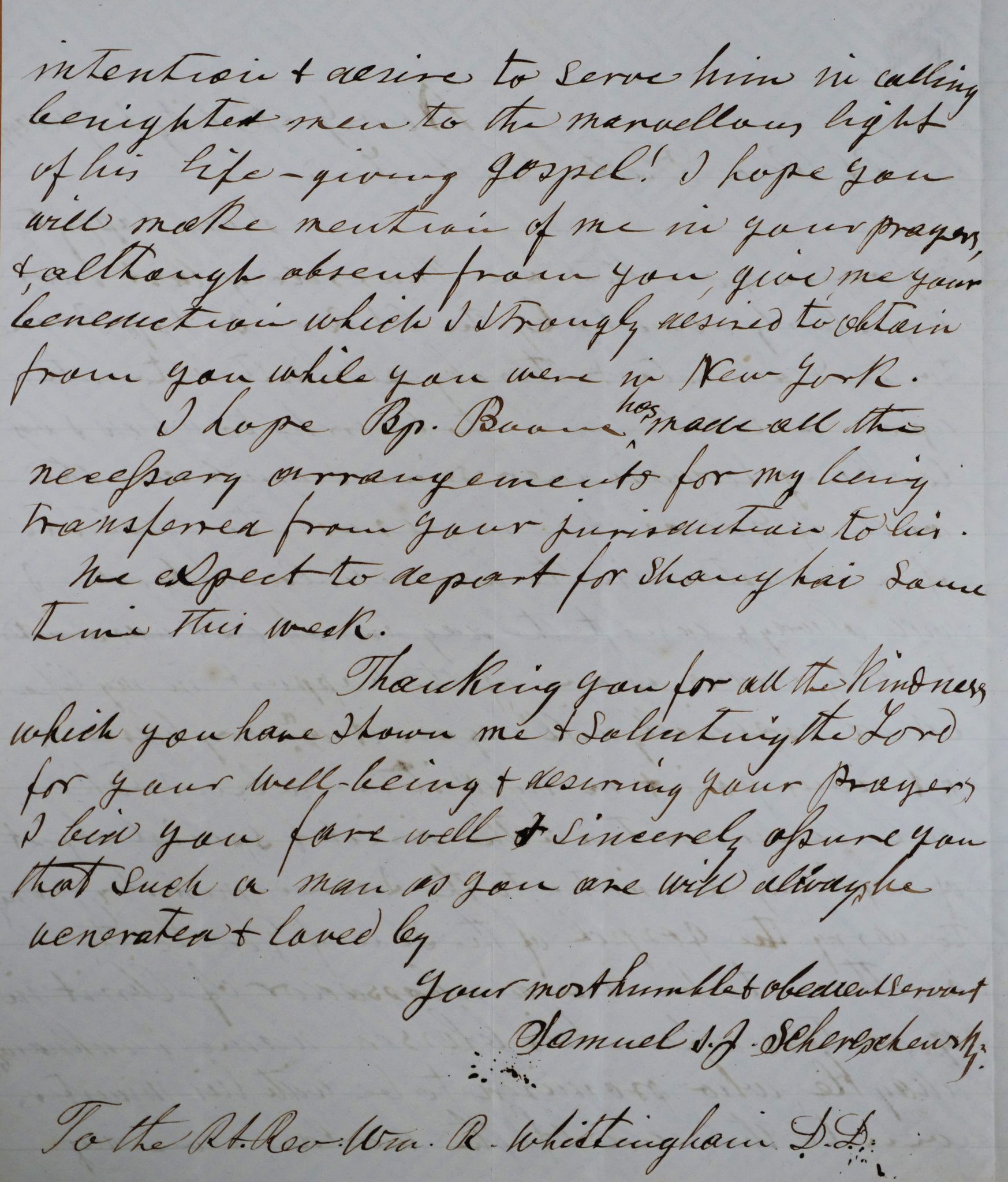 Letter to Bishop Whittingham July 12, 1859