Communion set for Episcopal Chaplaincy at Johns Hopkins Hospital

By Mary Klein, diocesan archivist
Sometimes, the archivist will walk into the office on a Monday morning and find a box full of surprises. These surprises can range from books, photographs, huge family Bibles or just about anything that is in any way associated with the Church. The Archives has, consequently, become the central drop-off and pick-up point for all sorts of ecclesiastical ephemera, from vestments, to Prayer Books, prayer desks, alms basins, and brass vases. So when clergy or parishes need a certain item to borrow or adopt, the Archives gets the call. Recently, the Rev. Joshua Rodriguez-Hobbs, the Episcopal chaplain at the Johns Hopkins Hospital emailed asking if there were an extra portable communion set available for use at the hospital.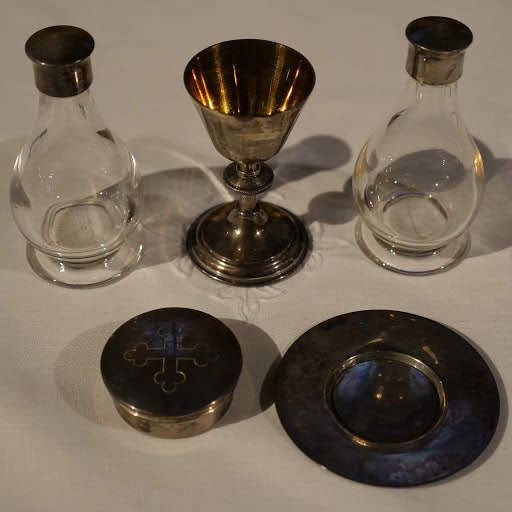 Communion set from Johns Hopkins Hospital Chaplaincy

For the back-story, a few years ago a small cardboard box appeared in the archives with a note reading, "Found at the Johns Hopkins Hospital chapel; please give to the archives." Inside was a small silver communion set, complete with chalice, paten and cruets. When the request for a communion set came to my inbox, I was very excited to call Chaplain Rodriguez-Hobbs and tell him that not only did I have a small sick-communion set, it was the very one which had come from his own chapel and found its way to the archives years ago. He arranged to come pick it up, and although the silver was tarnished, it was perfectly right that the set was going back to the hospital chapel. Mysteries are sometimes solved; precious things come full circle, and can go home again.