Christ Church Forest Hill, Rock Spring, 1900

by Mary Klein, Diocesan Archivist
The earliest mention of Christmas found in our Archives collections dates from December 23, 1756. The Rev. Thomas Bacon, rector of St. Peter's Parish in Oxford, Talbot County, wrote to Henry Callister, an Oxford merchant.  "I must request the favor of your sending by the bearer three bushels of salt and charge my account with it. Can you spare us a few roots of good celery? What is the price of your rum and best brown sugar? If you have got any coffee, pray send me a couple of pounds and a pound or two of chocolate if any to spare. My compliments to Mrs. Callister. Many happy returns of the good Season to you both. Come and see us as soon as you can & oblige." It sounds as if Mr. Bacon were preparing for his Christmas celebrations at home, although Christmas traditions in eighteenth-century Maryland would have been very simple: go to church, fix as fine a meal as you can afford, put up a sprig of holly in the window, make some rum punch, visit friends and perhaps attend a dance. No Christmas tree, no Santa Claus, maybe one small gift – simple indeed.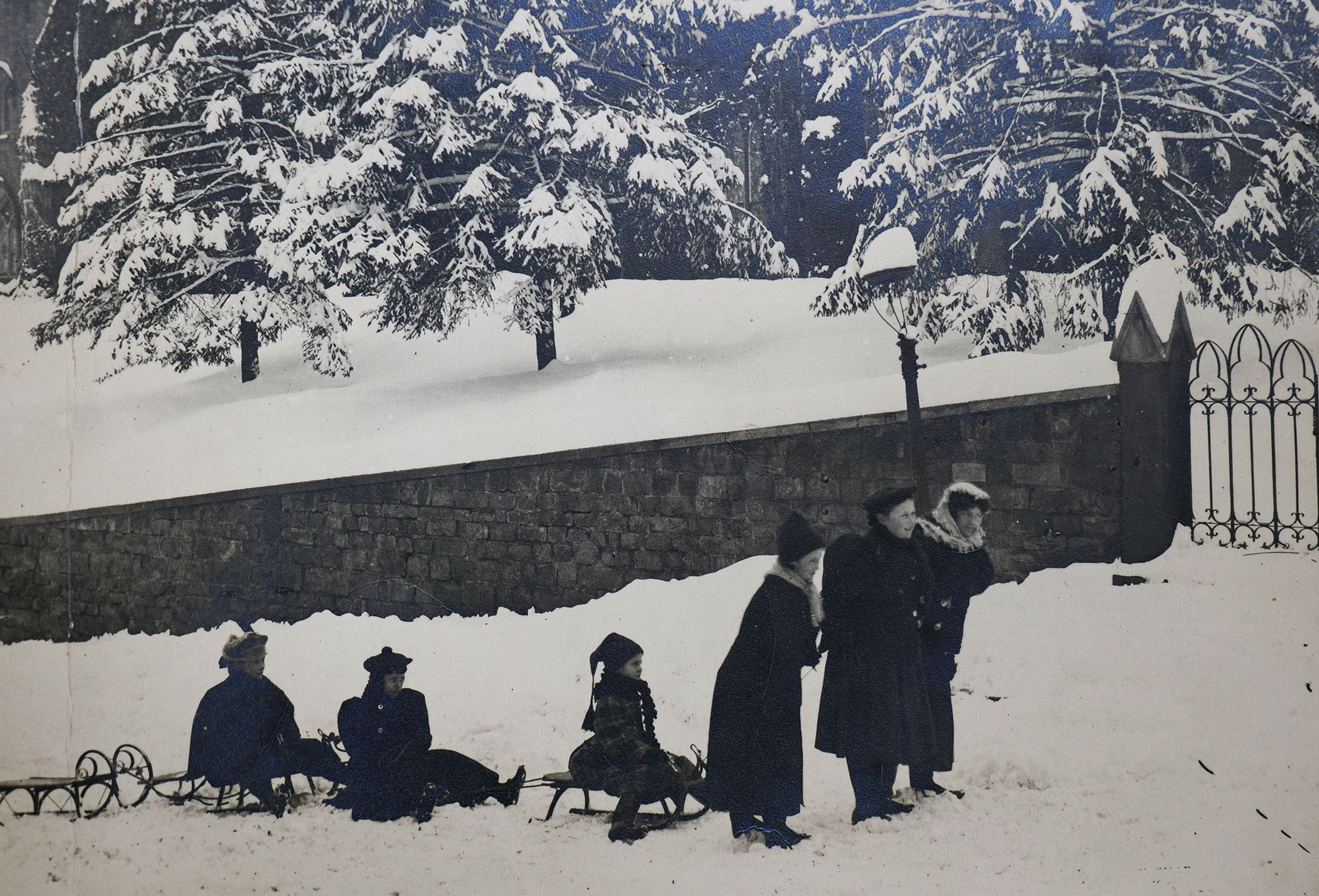 Winter at Emmanuel, Cumberland, 1890
(click to see full image)

The Oxford Movement began influencing Episcopal Church practices in the 1840's, and battle lines were drawn between "Evangelical party" members and "High Church" adherents. Evangelicals advocated a very Protestant mode of worship, no outward "Romish" symbols such as altar crosses, colored vestments, or vested choirs; while Oxford Movement clergy (sometimes referred to as "Puseyites" after a leader of the movement, the Rev. Edward Pusey)  began introducing embellishments including decorating the church with greens at Christmas and placing candles on the altar. In a letter dated December 28, 1844, the Rev. Roderic H. Ranney wrote to Bishop Whittingham from New Orleans about his struggles. He said he thought his parish might convict him of "Puseyism" because of what had happened over Christmas. A Miss Cottman had donated  "on each side of the pulpit an angel painted on canvas & blowing a horn", but objections arose and "the next day the poor little things were ordered down by the warden & taken to his office lest they should find their way up again. Today I went into the church & found that some persons had been there cutting off all the white paper rosettes interspersed through the green wreaths and the I.H.S. with the green cross was taken from the pulpit."
By the 1860's, many people were won over to the idea of decorating the church for Christmas, and the practice was becoming accepted and widespread. The Rev. Marmaduke Dillon wrote Bishop Whittingham in 1864 from All Saints' Church in Frederick, saying, "For the first time they have dressed the church for Christmas. The most bitter opponents of this seem now quite delighted."
In the Rev. Leonard Mills' December 20, 1862, letter to Bishop Whittingham, he wrote, "I am preparing to make the little ones of my flock happy on Christmas Day. Two of its dearest lambs were recently called away & I feel sure they are among those 'without fault before the throne of God'. Just last year they were the happiest of those who stood around the chancel to receive their Christmas presents. I shall miss them very much this Christmas, yet it is so comforting to know that where they are, the Christmas trees are ever hung with Heaven's choicest fruits which are handed down to the little ones by the blessed Babe of Bethlehem himself!"
One of America's most influential Christmas poems can be attributed to an Episcopal layman, who had a close relationship with our fourth bishop, William Whittingham. Clement Clarke Moore, the author of "A Visit from St. Nicholas", was the son of the Right Rev. Benjamin Moore, the first bishop of New York, and was born on his mother's family estate, Chelsey Square in New York City. In 1820 he gave his Chelsey land to the Diocese of New York for the site of the General Seminary, where he was professor of Oriental and Greek literature until 1850.
A young (not quite 17) William Whittingham entered General Seminary in 1822, with a class of eight students, where for three years, they would have been taught by Dr. Moore. Clement Moore had been instrumental in founding St. Luke's- in- the- Fields Church on Hudson Street in 1820, and in 1831, Whittingham was called to be rector there. By April of 1834, Whittingham was in a low state. His baby daughter had just died, and he was very ill. His doctor told the vestry that if Whittingham did not resign immediately, and cease all work, he was danger of dying, with chronic bronchitis turning to consumption. Worried about the fate of his family, he was assured by his friends at the Seminary and by the vestry that all would be well. On May 21, the vestry generously accepted his resignation, gave him full pay to July, and promised $400 a year for two years, so that he could sail to the south of Spain and recover. Writing a touching letter of farewell, all the vestrymen signed it, with Clement Moore's signature bold and neat and distinctive, showing that he had been the scribe of the letter. Obviously, Whittingham recovered his health, and, after a few years in New Jersey, returned to General Seminary in 1836, where he was professor of Ecclesiastical History, again alongside Clement Moore.
According to Clement Moore himself, it was during a trip by sleigh to Washington Market, on an errand to buy the Christmas turkey, that he made up the now-famous poem as he travelled to and fro. That evening, Christmas Eve, 1822, he recited it to his six children, and the next year it was published for the first time. Who does not now recognize 'Twas the night before Christmas' as a beloved part of Christmas? So let us, with St. Nicholas himself, wish to our loved ones a "Happy Christmas to all, and to all a good night."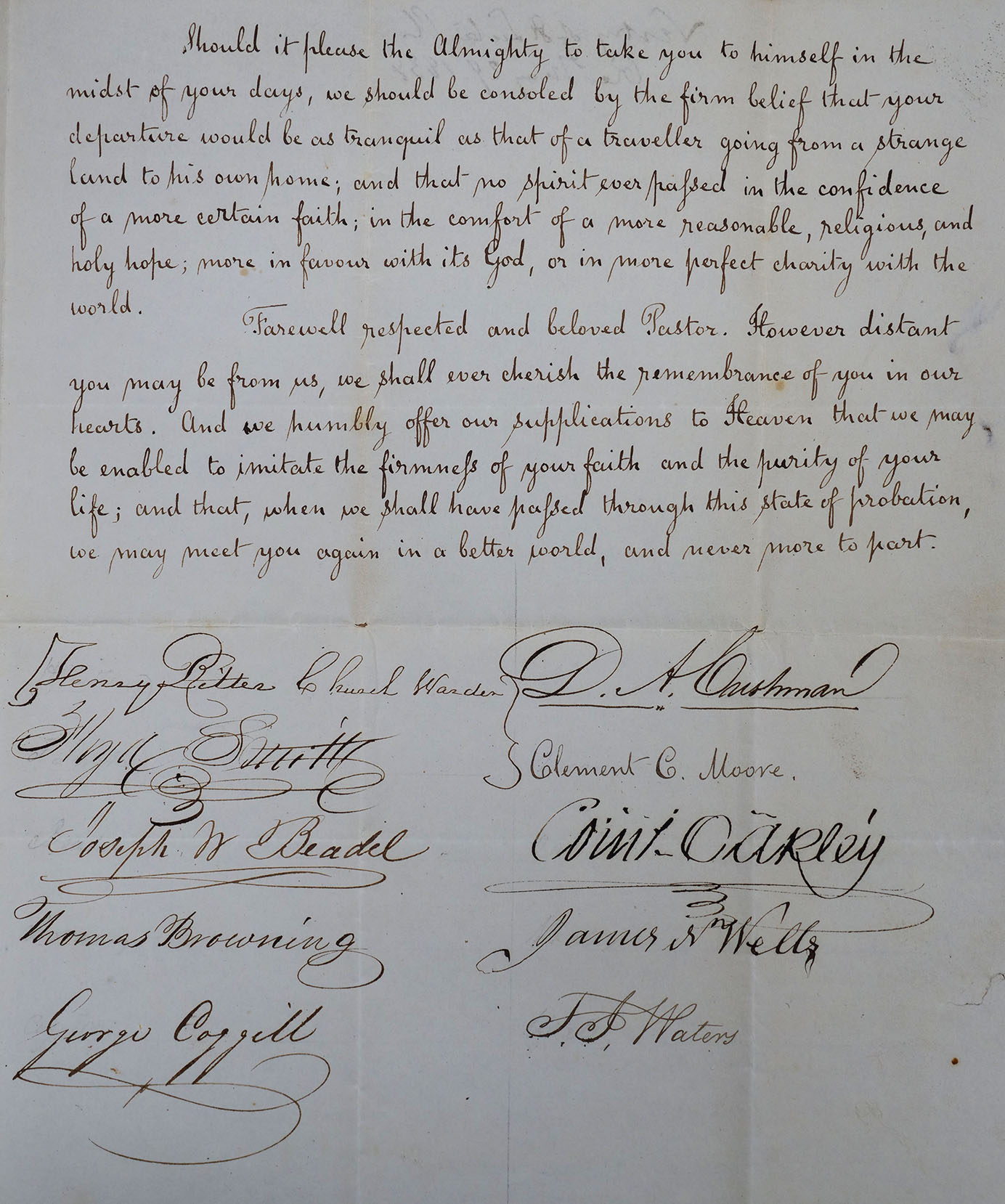 Letter from St. Luke's Vestry to the Rev. William Whittingham, May 27, 1834