The Very Rev. Rob Boulter has announced the addition of a new hymnal to the pew racks of the Cathedral of the Incarnation in Baltimore, Maryland. In a sermon celebrating the Feast of the Epiphany and promoting diversity within the Church, Dean Boulter announced in early January that on Martin Luther King Jr. Sunday, January 19, 2020, the Cathedral would dedicate a new hymnal with music from the African-American tradition.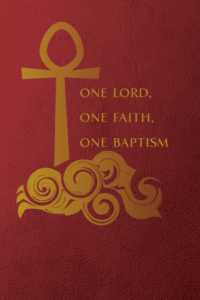 ​Dean Boulter said, "as a cathedral church in the heart of Baltimore, I think this addition is long overdue." He said we must "embrace the teaching that God loves each and every one of us because we are all God's beloved children. The barriers we create around race, gender, age or country of origin keep us divided."
The hymnal that the cathedral selected was published by GIA in 2018 and is entitled One Lord, One Faith, One Baptism – an African-American Ecumenical Hymnal. Ken Brown, Canon for Worship and Music, and Dean Boulter considered several hymnal options including Lift Every Voice and Sing II, African American Heritage Hymnal, and Lead Me, Guide Me. One Lord, One Faith, One Baptism was selected because it contains selections of diverse styles and genres, including traditional ecumenical hymns, contemporary texts written for the 21st-century church, praise and worship selections, music from Taizé, choral responses, responsorial psalmody, traditional and contemporary gospel music, and African-American spirituals.
Dean Boulter sees this addition of a new hymnal as one of the ways that the cathedral congregation shows their commitment to inclusion and racial reconciliation. "Our church has not had a good history when it comes to valuing diversity. The cathedral church was founded when two predominantly white congregations joined together and moved out of neighborhoods in Baltimore City that were becoming integrated. I hope this act, and others that we will are considering, will help heal the breach that racism has created in Baltimore." Dean Boulter acknowledged that it is a small and symbolic act but he said, "symbols are important and even small acts of reconciliation make a difference."
The $5,500 cost to acquire the new hymnals was made possible through two anonymous donations and a legacy gift from James F. Ridenour. The dedication of the new hymnals will took place at the 11:00 AM Choral Eucharist on Martin Luther King Jr. Sunday, January 19, 2020 at the Episcopal Cathedral of the Incarnation, 4 East University Parkway, Baltimore, Maryland. The Rev. Mary Sulerud, canon for congregational vitality for the Diocese of Maryland, preached a powerful sermon on reconciliation.