Harford County, Lenten Calendar, 1877

By Mary Klein, diocesan archivist
Lent, which derives its name from the Old English word lencten, which means "springtime," and from the West Germanic langitinaz, or "lengthening of days," is a time of preparation for Easter, beginning on Ash Wednesday and lasting fourty days. The practice is in imitation of Jesus' fourty-day wilderness fast while preparing for his earthly ministry. Traditionally, fasting and self-denial have been elements of keeping a holy Lent, with adherents choosing to give up specific pleasures as a path to simplicity and self-control; and when cravings take hold, using the time to focus on spiritual matters and prayer. Lent has probably been observed in the Christian Church since Apostolic times, although it was first formalized by the Council of Nicaea in 325 C.E. Lent was a time when those wishing to be baptized were taught the Christian faith, and all believers practiced penitence. Fasting from food during Lent had strict guidelines in the early church, with only one meal a day in the evening permitted. Meat, fish, eggs and butter were not allowed at all.
During the nineteenth century, the Lenten practice of holding weekday services was widespread in the Diocese of Maryland. An 1855 printed flyer by the Rev. A. Cleveland Coxe, rector of Grace Church, Baltimore, shows that he held services on Wednesday and Friday mornings, as well as Evening Prayer every day. His Sunday Lenten sermons were on the topic "Godly Sorrow for Sin" and his Friday lectures were titled "Scriptural Examples of Penitence." C.M. Parkman, the rector of All Hallows' in Snow Hill, Worcester County, held daily services in 1860 during Lent at 9:00 AM and 5:00 PM, and on Thursdays at 7:30 PM with a lecture.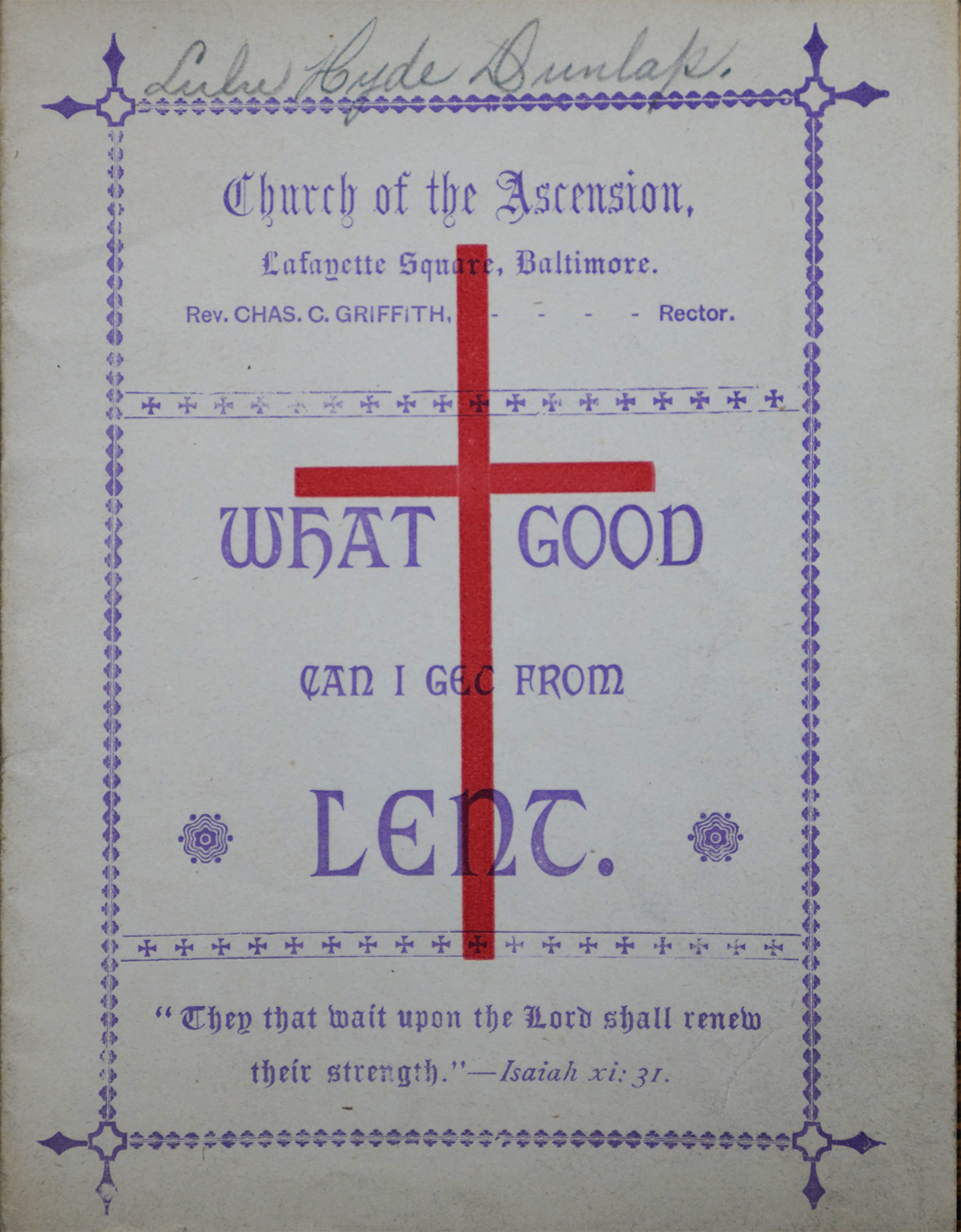 "What Good Can I get from Lent?" by the Rev. Charles C. Griffith, 1889

In 1889, the rector of the Church of the Ascension, Baltimore, the Rev. Charles C. Griffith, published a pamphlet entitled, "What Good Can I get from Lent?" which, among other things, listed the services available during the season. Every weekday there was a morning service at 8:00 AM, an evening service at 5:30 PM, and on Wednesdays an additional service and lecture at 8:00 PM. Also included in the pamphlet was a prayer for Lent written by Bishop William Whittingham, who had died ten years earlier.
"O lord! who through ages past has trained Thy Church, as at this season, in finding out and striving against the secret or open sins which may be displeasing in Thy sight; by the help of the Holy Spirit lay open to me my heart and life, that I may in humble penitence lay them at the foot to the Cross of Christ for cleansing through His most precious blood. Amen."
The February 1958 issue of the Maryland Churchman featured an article praising St. Paul's Parish, Baltimore for its "fifty years of Lenten noonday preaching, the oldest continuous series in the American church." Begun in 1908 by the Rev. Arthur B. Kinsolving and featuring a different preacher every day during Holy Week, the services extended to every weekday during Lent in 1911. While the Rev. Harry Lee Doll was rector of St. Paul's in 1947, he added to the daily services by instituting an "interdenominational business men's choir which sits in the choir stall and leads hymn-singing" which was still going strong throughout the 1960's. In addition, "luncheons before and after the service are served daily by women of St. Paul's Parish in the church undercroft." In 1953, the cost of coffee and a sandwich was 30 cents.
Children and young people were encouraged in the Lenten discipline of contributing daily to their Mite Boxes. These small cardboard boxes full of pennies and nickels were gathered up after Lent and the money was usually designated to a mission field. In 1932, Episcopal Church Presiding Bishop, James DeWolf Perry, in a letter published in the Maryland Churchman, thanked the children of the church for collecting over $1,500,000 in the past three years. "In the past three years you have contributed a larger sum for missions than in any former triennium."
It may be well for us today to reflect on Bishop Edward T. Helfenstein's 1932 Lenten message which encouraged everyone to heed the message of Isaiah, chapter 58. "The Lord says 'The kind of fasting I want is this: remove the chains of oppression and the yoke of injustice, and let the oppressed go free. Share your food with the hungry and open your homes to the homeless poor. Give clothes to those who have nothing to wear, and do not refuse to help your own relatives. If you put an end to oppression, to every gesture of contempt, and to every evil word; if you give food to the hungry and satisfy those who are in need, then the darkness around you will turn to the brightness of noon.'"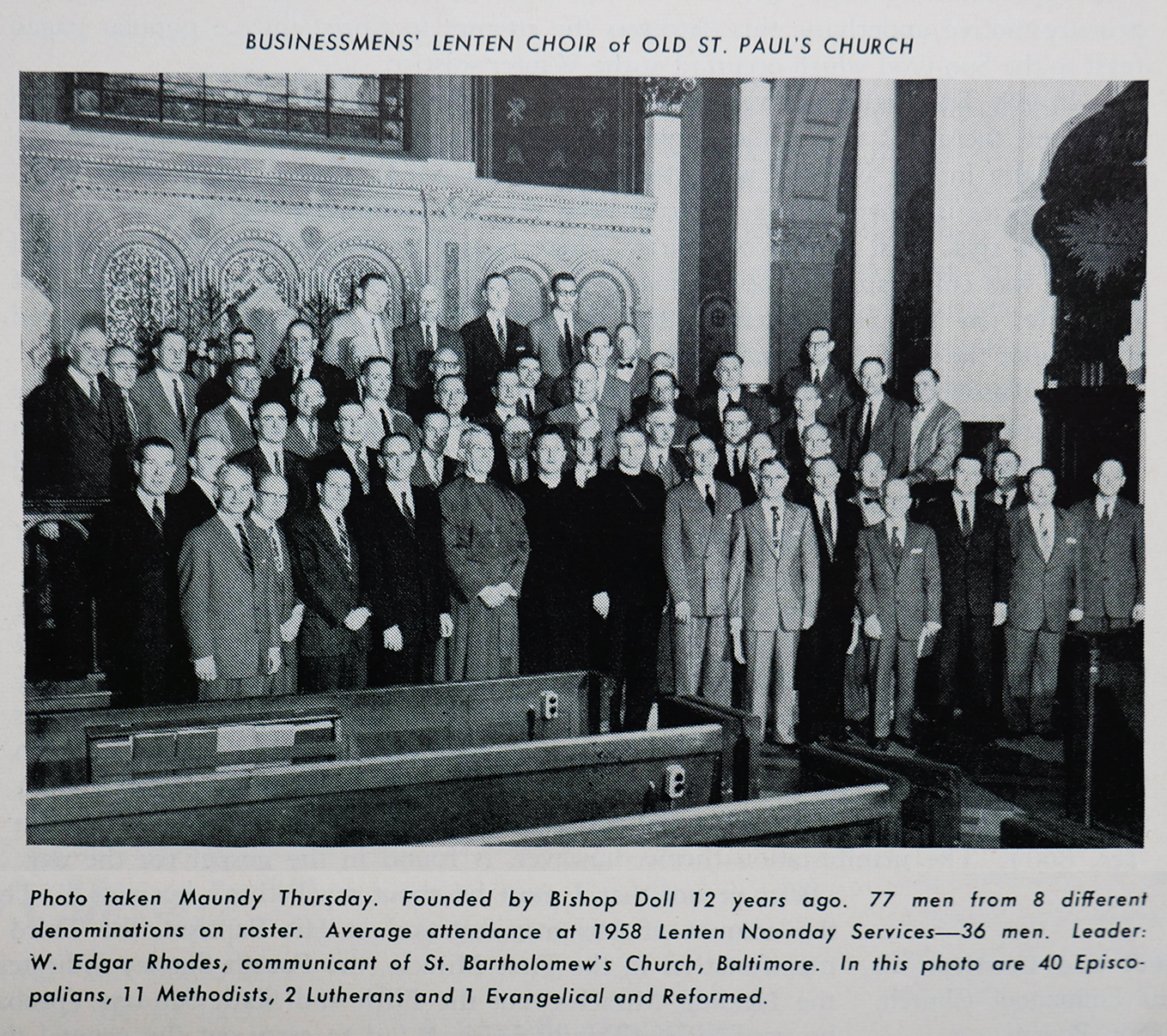 The Maryland Churchman, January 1959