Cover of the Rev. Joseph Bend's sermon, October 10, 1800
By Mary Klein, diocesan archivist
The scourge of Yellow Fever descended upon Baltimore numerous times in the past centuries, two of the worst outbreaks occurred in 1794 and 1800. Hardest hit was always Fells Point, where sailors, laborers, tradesmen and their families lived. With a fast-growing population of about 15,000, as many as 25 Baltimoreans died each day during the 1794 epidemic.
In 1800, Baltimore was once again hit with an epidemic of Yellow Fever which began that August and lasted about 65 days, until the first frost. Many residents left the city, which brought commerce to a virtual halt. By the time the epidemic ended, nearly 900 people had died in Baltimore, half of those were residents of Fells Point.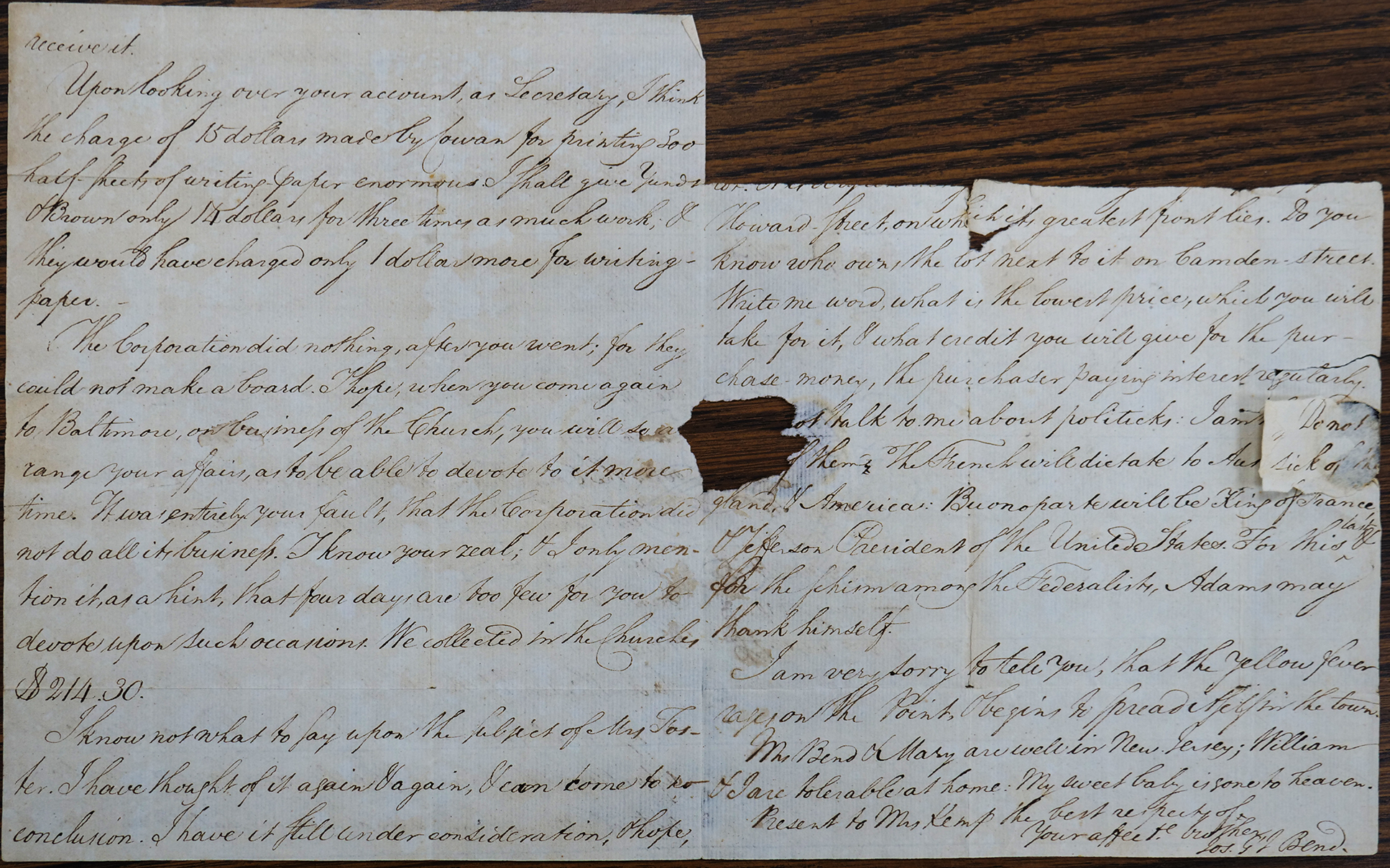 Letter from the Rev. Joseph Bend to the Rev. James Kemp, August 29, 1800
On August 29, 1800, the Rev. Joseph G.J. Bend, rector of St. Paul's Parish in Baltimore, wrote to the Rev. James Kemp, who lived in Elkton on the Eastern Shore, and was rector of Great Choptank Parish, saying, "I am sorry to tell you that the yellow fever rages on the Point, & begins to spread across town. Mrs. Bend and Mary are well in New Jersey; William & I are tolerable at home. My sweet baby is gone to heaven." Nearly a month later, On September 22, Bend wrote to his friend and colleague, the Rev. William Duke, rector of St. Margaret's Parish in Annapolis, "I still remain at the parsonage, which I have no apprehension that the pestilence will reach. It is very bad on the Point & prevails considerably on Dugan's & all the other wharves below Calvert Street. There are a few cases in other parts; but they & others, their predecessors, have had their origin in the before-mentioned contagious places. The city, west of Jones Falls & north of Water Street, is as healthy as at any other time of the year. However, I expose myself very little, & am careful to shun the contagious quarters. Our churches, as well, as those of the other denominations, continue to meet, but the congregations are dreadfully small. Members have left the town, in my opinion without any absolute necessity, and how they spend their Sundays, you may easily conjecture. Mrs. Bend has returned with my little Mary. We are all well."
A small notebook, kept from 1797-1810, which detailed the amounts of money collected during Sunday services at St. Paul's Parish in Baltimore, contains interesting observations jotted down during the 1800 yellow fever epidemic. For Sunday, August 17, 1800, Thomas Hollingsworth, who counted and recorded the collections, wrote, "Rec'd in silver: £ O -6-1. In copper & cents: £0 -6-6. Sum: £0-12-9. Shamefully small congregation." On Sunday, September 7, 1800, Mr. Hollingsworth wrote, "Amount this day £0-11-10. After this, there were no collections, on account of the fever, till Sunday, 26th October, 1800." So, despite Mr. Bend's assurances that his congregation was still meeting, it seems that between September 7 and October 26, there was no collection taken – a very unusual circumstance.
On October 10, 1800, the Rev. Mr. Bend preached a sermon at St. Paul's entitled
, Occasioned by the Third Visitation of Baltimore by the Yellow Fever.
"Thus far, my brethren, we have happily survived the stroke of the pestilence, but let not this fill us with vanity, as if we were more deserving than those who have fallen; nor let us uncharitably suppose that its victims were particularly culpable. And those who have escaped the stroke of death must still consider themselves sorely afflicted by their self-banishment from their homes, by the almost total suspension of business, by the extraordinary expenses which they have incurred and by the general distress of the society to which they belong." Two hundred and twenty years later, as we face our own pestilence, our own quarantine, our own business distresses, we can identify with these words and contemplate our own challenges.
Again reflecting today's confusion, fear and dread, Bend wrote, "There rages a disease which if not the same, produces the effects of a plague. It baffles the heart of the physician, the power of medicine. The disease adds abundantly to the horrors of poverty. There dismay drives from the city its inhabitants. There the sick are frequently abandoned by their friends, & left without necessary assistance. There business is neglected, while those who cannot fly from the scene of danger confine themselves to their habitations. May health again soon return." In conclusion, Bend wrote, "If a better spirit revive than has for some time prevailed, it will have its affect. That our manner of living may be such as will bring us peace at the last, let us seek the aid of God's Holy spirit, thru Jesus Christ our Lord."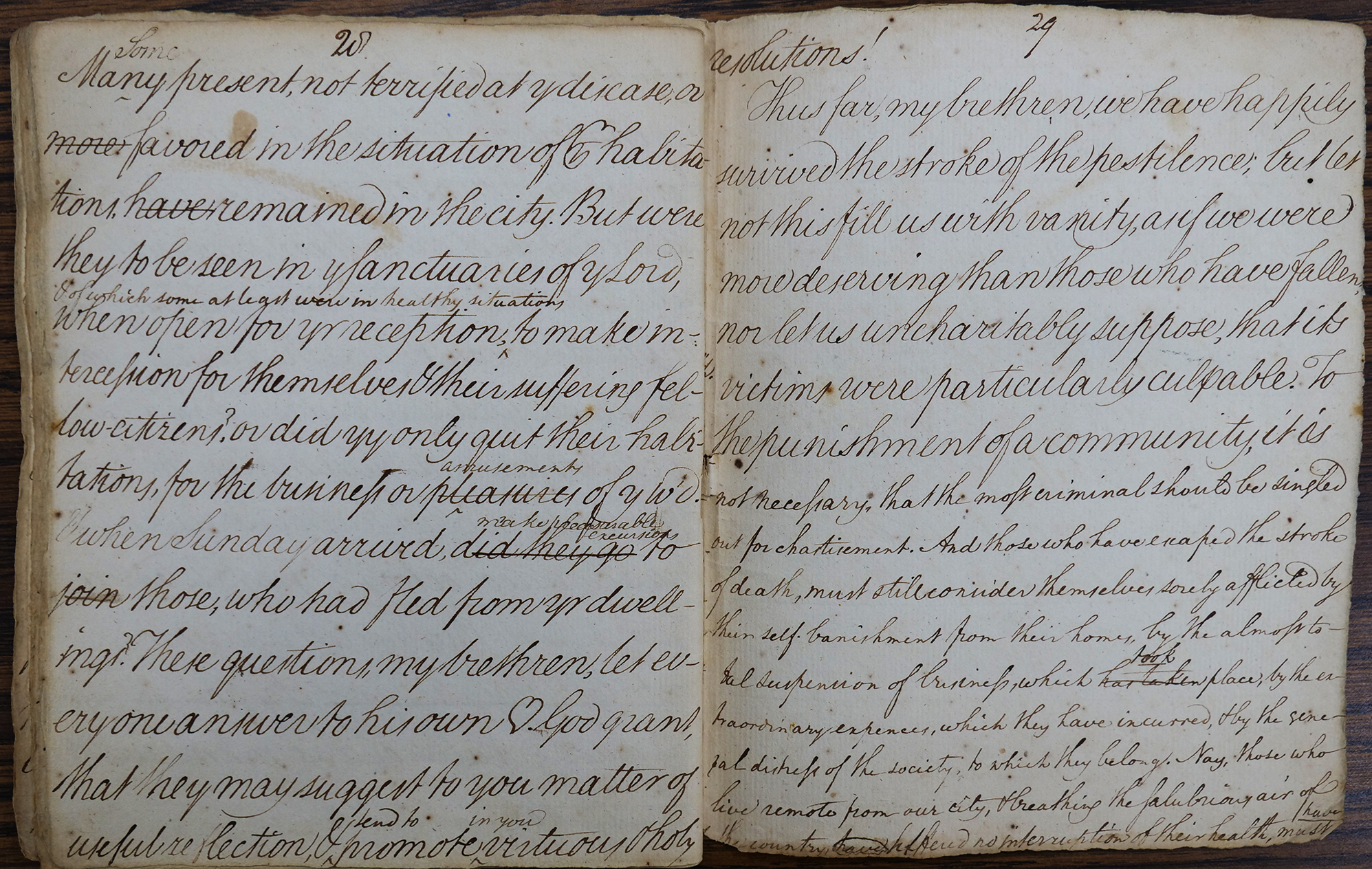 Occasioned by the Third Visitation of Baltimore by the Yellow Fever, October 10, 1800