Excerpt of a letter from the Rev. Henry H. Bean to Bishop Stone, August 28, 1834
By Mary Klein, Diocesan Archivist
Since the dawn of time, human beings have searched for ways to be healthy, avoid illness, find cures, and outwit the unknown. Seasons brought illnesses, epidemics spread by mysterious means, climates produced fevers, and, seemingly, all the forces of intellect could neither fathom causes of scourges nor stem the tide of disease.
In August of 1795, Judge Robert Goldsborough wrote to Charles Goldsborough, a future Governor of Maryland, that Robert's wife had been "seized with a considerable chill on Saturday, which was succeeded by a fever that continued all day Sunday. She still continues weak and languid, but I hope that balsam and bark will restore her." Robert goes on to say, "I hope that your Eliza will continue to get better, and that our dear little one will escape all autumnal complaints. I hope too that you will escape any further attacks, which you probably will do by avoiding the hot sun and evening dews."
 Apparently the climate of the Eastern Shore was thought to be "too unhealthy before November", according to the Rev. Ashbel Baldwin, who wrote to the Rev. James Kemp in Cambridge, in September of 1803. Baldwin was rector of Christ Church in Stratford, CT, and was interested in an Eastern Shore parish, but had heard that "that country is said to be subject to fevers & agues", so was postponing a trip until October to further inquire about the opening. (Ague was defined as chills, fever and shaking.)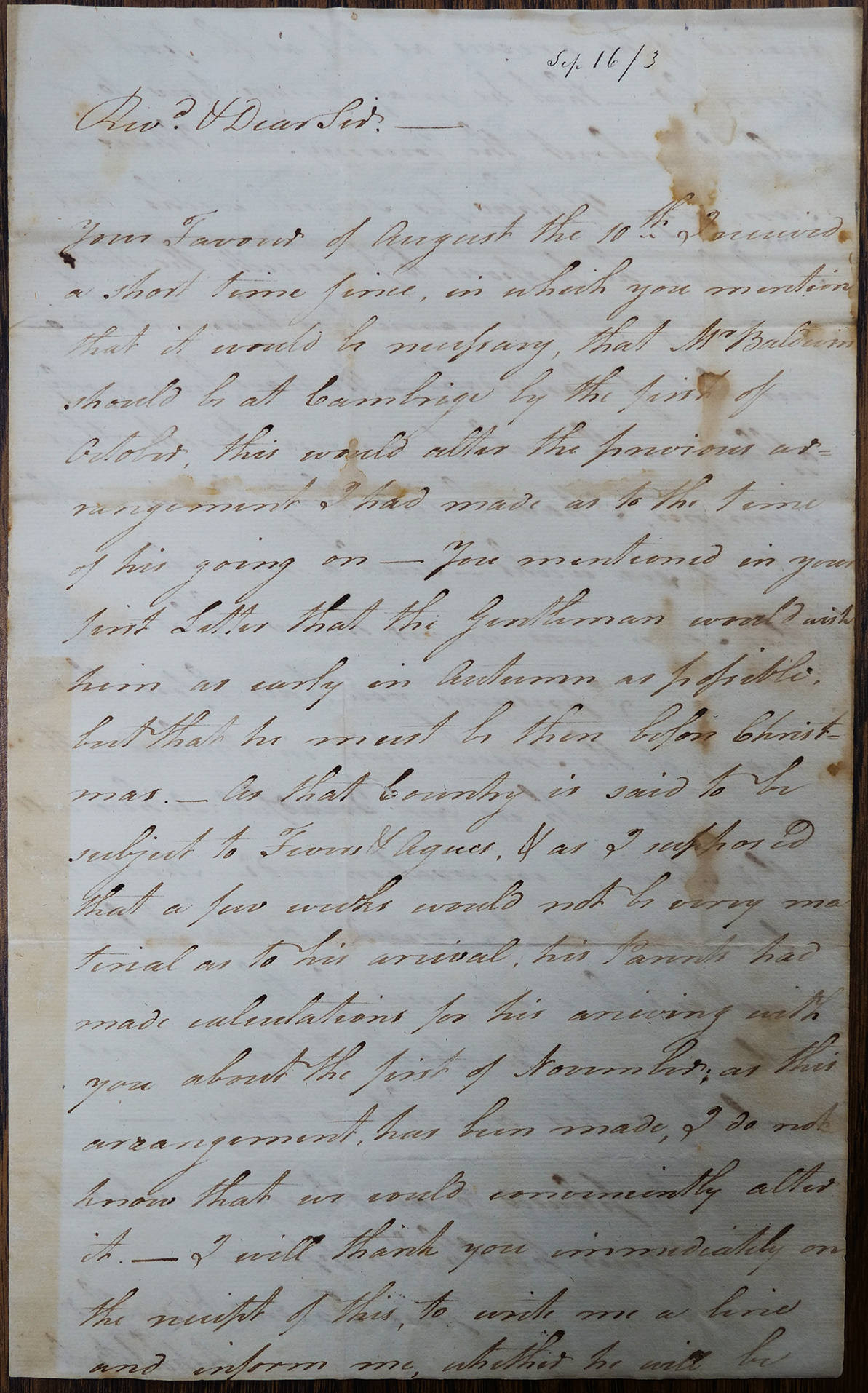 A letter from the Rev. Ashbel Baldwin to the Rev. James Kemp, September 16, 1803
The Rev. Joseph Jackson, rector of William and Mary Parish in St. Mary's County, received a letter from John Singleton in February of 1812, with news of Jackson's mother, who had been ill. Jackson had previously been rector of St. Peter's Parish in Talbot County, on the Eastern Shore, and the elder Mrs.  Jackson was still residing there with Singleton's family. Singleton reported that, "she took some calmomell [chamomile] & has taken a good deal of drake root". (Ground mandrake root has been used for centuries to lessen pain, but, if swallowed in sufficient quantities, could induce an unconscious state, so was often used before surgery.) Singleton went on to say that "both Dr. Thomas and Dr. Martin visited her, Dr. Thomas attempting to bleed her, but could not succeed in getting blood."
The Dr. Martin referred to in Singleton's letter was Dr. Ennalls Martin, who practiced in Talbot County from 1782 until his death in 1834. Having been born in Talbot County in 1758, Martin served as a surgeon's mate to the Maryland Line during the Revolutionary War from 1777-1780, completed his medical studies at the University of Pennsylvania, then opened his practice in Easton. In 1814, Dr. Martin sent a letter to Bishop Kemp and enclosed a pamphlet he had written about methods of combating epidemics and preserving life. Saying his writing style was not very sophisticated, he asked Bishop Kemp, "If you can give it a better polish, I should esteem it as a great favour…" As yellow fever was sweeping parts of the country, including Baltimore, Dr. Martin had studied past epidemics and had come up with ways he thought could prevent its spread. He added to Bishop Kemp, "If it should be considered worthy of publication, as many should be issued as will find a ready sale throughout the United States."
 Bishop Kemp did do some editing of Dr. Martin's essay, because on February 11, 1815, Martin wrote to the bishop thanking him for the "favour of your attention to my essay." He hoped it could be sold in all the major cities, and discussed his findings with the bishop. A main symptom of yellow fever, he said, is "unbearable heat internally, as if coals were burning within, while the external parts of the body are freezing with cold." Telling the bishop to keep a copy of the pamphlet for himself, send one to "our friend Mr. Joseph Jackson with my respects, and another copy to be forwarded to Noah Webster, Esq." Dr. Martin's essay sold for 75 cents, and was widely distributed, although, sadly, our Archives does not have a copy.
An ancient prescription for many ills was a dip in springs which were said to have healing properties. In June of 1820, the same Joseph Jackson who had corresponded with Dr. Martin, took a tour of Western Maryland looking for a "more salubrious" place to live than St. Mary's County. "My courses wound up the Allegany & after travelling from Cumberland about 20 miles, I arrive at its summit, meeting a few acquaintances by the way & passing through a country not so distinguished for fertility as for salubrity & strangeness of vast & romantic scenery. Oh! When shall the day be when this mountainous region shall have villages, churches, & inhabitants equal to its capacity! At. Mr. Tomlinson's, there was abundant springs of chalybeate [which means "steel" in Latin] water, situated conveniently to his tavern & his family dwelling. Will not these become the resort of strangers from every quarter, who will prefer this place in the vein of health, a chosen spot between East & West, this seat of health, of repose & contemplation? Who would not prefer such a situation, especially when the object of health may be better prosecuted here?" Mr. Jackson decided to move to Kentucky that year, in pursuit of a healthful place to live. Sadly, he died there soon afterwards.
 Many of us may be feeling the loss of receiving communion during this time when churches are not holding public worship services, but even this is not a new phenomenon. In August of 1834, the Rev. Henry H. Bean, ministering at St. Peter's Parish in Montgomery County, wrote to Bishop William M. Stone saying, "The sickly season has come on & I cannot, however much it may be needed, administer the communion to any." Perhaps a prayer for guidance from the Book of Common Prayer will help sustain us: "O God, by whom the meek are guided in judgment, and the light rises up in darkness for the godly: grant us, in all our doubts and uncertainties, the grace to ask what you would have us to do, that the Spirit of wisdom may save us from all false choices, and that in your light we may see light, and in your straight path may not stumble; through Jesus Christ our Lord. Amen"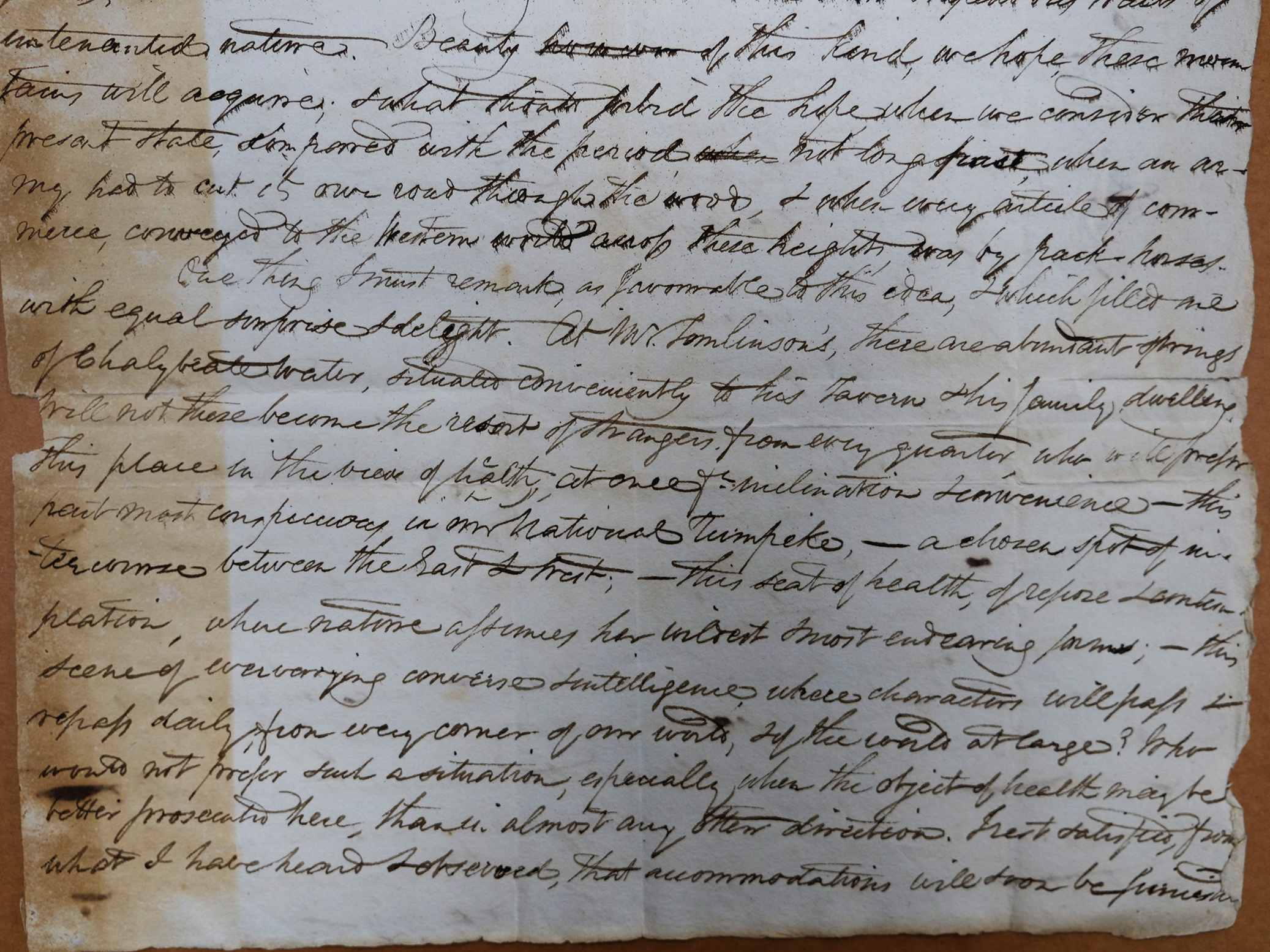 Travel diary of the Rev. Joseph Jackson, June 3-28, 1820