An excerpt from correspondence between Bishop Helfenstein and Carlyle Barton, May 7, 1936
By Mary Klein, Diocesan Archivist
On May 7, 1936, the Bishop of the Diocese of Maryland, the Right Rev. Edward T. Helfenstein, wrote a letter to Carlyle Barton, the chancellor of the diocese. The diocese had recently purchased a building at 105 W. Monument Street in Baltimore to serve as the diocesan offices and the staff was busy transferring everything from the old offices at 409 N. Charles Street. The bishop wrote, "We have stored away in cupboards great quantities of Bishop Paret's correspondence and all of Bishop Murray's and all of mine as Archdeacon. To my mind, all this correspondence is without any value whatsoever. …No one, even should a history of the Diocese of Maryland be written, would have time to go through all such correspondence. Besides this, many things would be unearthed which had just as well be forgotten. Can we, on your advice, destroy all such correspondence? Such has been suggested to us by several persons and the advisability of so doing has been intimated to Miss Parsons [the bishop's secretary] by some of Bishop Murray's family."
Two days later, the chancellor replied, "People frequently hesitate to destroy old files for fear that something which may some day be required may be lost; then something happens like a fire … which disposes of these old papers and which is really a blessing in disguise. I am convinced that the approaching move… is just the occasion for which you have been waiting and that rather than move all of these old letters, it is better to destroy them at this time."
Bishop Helfenstein and Carlyle Barton correspondence, May 7, 1936
Consequently, fifty years of correspondence of two bishops and an archdeacon was burned. Bishop Paret served from 1884-1911 and Bishop Murray was coadjutor from 1909-1911, Bishop Diocesan from 1911-1929 and Presiding Bishop from 1925-1929. All those years of history went up in flames: years of war, epidemics, assassination, race relations, votes for women, the division of the diocese with the formation of the Diocese of Washington, the impetus for cathedrals, issues of immigration, neighborhood demographics, closing and opening of churches – all gone forever and considered "without any value whatsoever." There is virtually no correspondence in the diocesan archives from Bishops Paret and Murray, and precious little from Bishop Helfenstein himself. He must have taken Carlyle Barton's advice contained in the 1936 letter, "It might be well to keep correspondence for a certain number of years…then destroy the correspondence of the most remote year." The number of pieces of correspondence of Helfenstein's, Paret's and Murray's altogether are held in a small part of one file drawer, whereas Bishop Whittingham's correspondence (1840-1879) is stored in twenty-two file drawers.
 Only three years after the joint decision of bishop and chancellor, however, they both might has regretted the outcome. In July of 1939, Bishop Helfenstein wrote to Barton concerning a legacy left to the diocese, and whether Convention actually acted on its disposition. "During the greater part of Bp. Murray's episcopate, only those [bequests] involving any question of the willingness of the Convention to accept them were referred [to the Convention], such other bequests were reported only by the Treasurer and acceptance taken for granted. As you know, Bishop Murray's files were burnt. From the old Journals, I think we can secure the information needed in most cases." Incidentally, these pieces of correspondence between bishop and chancellor were gleaned from Carlyle Barton's files, not Bishop Helfenstein's. Apparently, Barton did not take his own advice to heart about destroying old files.
This great loss of historical documents from Bishop Murray's episcopate was brought into sharp focus as the Covid-19 pandemic hit the country. While trying to research the diocesan response to the 1918 flu epidemic, the lack of records was obvious. Only official Journals of Convention were available for research – no letters, no directives to clergy, no guidelines. Such is also the case for other important events in the life of the country and the church, some of which, according to Bishop Helfenstein, are "just as well forgotten." Today, while the church is striving to discover and take responsibility for past sins of racism and marginalization, these destroyed documents would shed much-needed light on the actions of the past. Transparency in dealings is a goal today, not cover-ups for stances which must have caused regret or embarrassment and were thought better burned and forgotten.
As in the case of the thousands of stolen documents from our archives in the 1930's through the 1950's, the only way our diocese can piece together those lost years of history is through other people. Perhaps other dioceses have kept the bishops' correspondence; perhaps family members have some letters stored away. Research requests concerning Bishop Murray's time as Presiding Bishop frequently come into the archives, and the response is the sad tale of destruction. May this loss serve as a warning in our own time! With the advent of email and on-line communication, written correspondence of bishops is diminishing. But this electronic communication should be treated in the same way as typed or hand-written correspondence has been in years gone by. Today, all bishops' correspondence is kept for the current year, then, on an annual basis, is sent to "the cloud." As an added precaution, any confidential material or historically important events are printed and filed, and eventually come to the archives. All the members of the diocesan staff make it a practice to pass along to the archives any documents they are considering for destruction, so that the documents can be properly filed or destroyed. The same should hold true for parish documents. The Archives of the Episcopal Church has compiled the Manual of Business Methods in Church Affairs which clearly sets out a timeline for the permanent keeping or safe shredding of records. This document can be downloaded from their website and should be in every parish office, which will ensure that future researchers have the resources needed to understand the past, navigate the present and prepare for the future using materials others may consider "without any value whatsoever."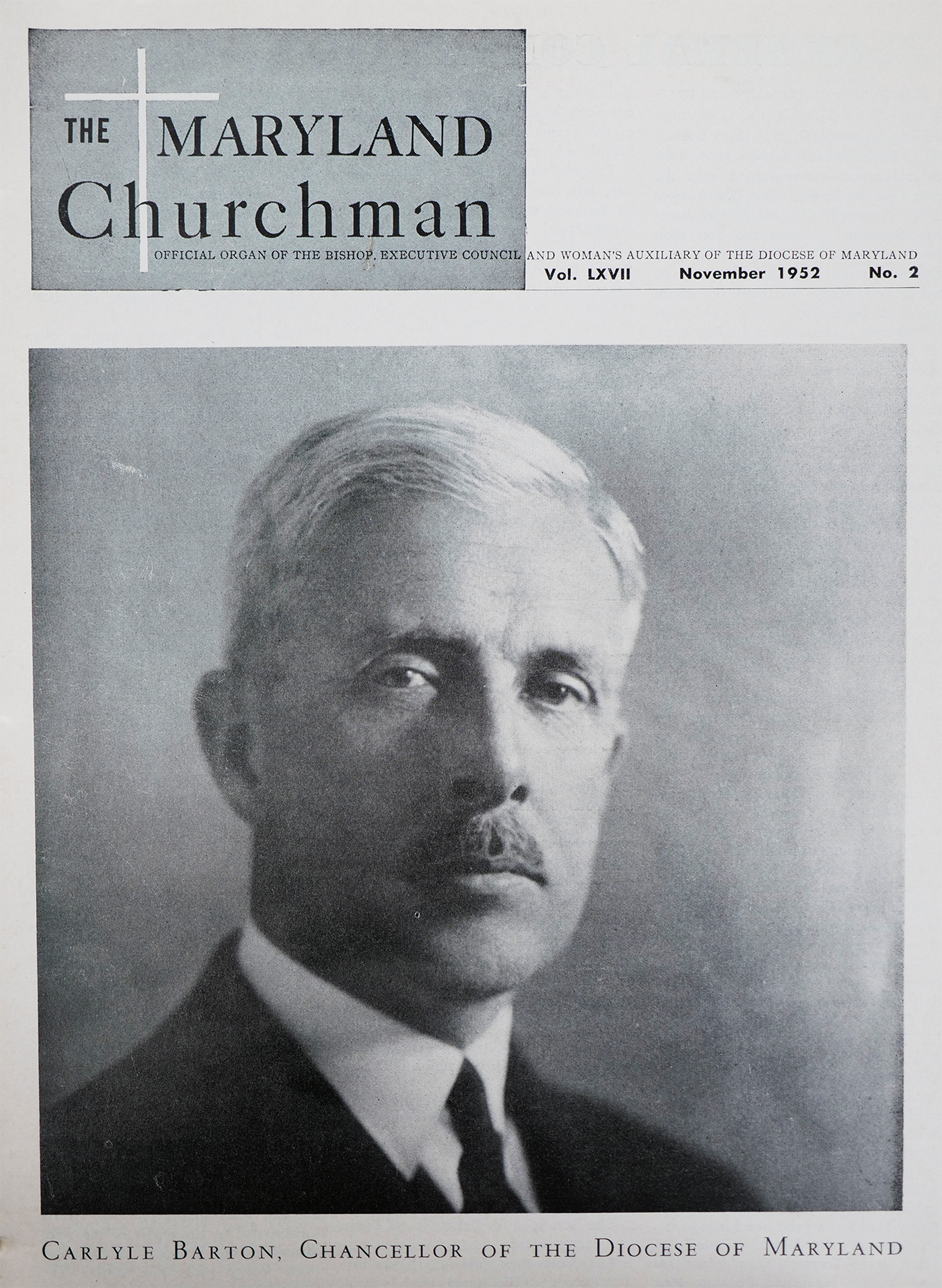 Carlyle Barton, Chancellor of the Diocese of Maryland, the Maryland Churchman, November 1952