The War Commission of the Episcopal Church

By Mary Klein, Diocesan Archivist
Did you know that the Episcopal Church established a War Commission during the First World War? The address was 14 Wall Street, New York, and the coadjutor bishop of Southern Ohio, the Right Rev. Theodore Irving Reese, held the job of chairman of the executive committee. He wrote to the Rev. Benjamin N. Bird, serving as a civilian chaplain at Camp Meade, Maryland, on October 3, 1918, about resources available during the influenza epidemic. "Appreciating that in the midst of this epidemic of influenza, your ministry is in the presence of conditions which create demands not only for spiritual help but also for material assistance, the War Commission wishes you to feel free to call upon it for such assistance as you may need. The Church relies upon you, as her representative, to see to it that our boys have every comfort and help in their sickness. The War Commission stands ready to support you in this service to their needs."
Because Bishop John G. Murray's correspondence was burned in 1936 (see a previous "From the Archives" post) it has been difficult to pinpoint detailed information concerning the influenza epidemic of 1918 as it relates to the Diocese of Maryland. But thanks to a scrapbook from the archives of Epiphany Church, Odenton, a little more information has come to light. Among the pages of that scrapbook, in addition to the above letter, is a copy of a 1918 article printed in The Living Church magazine written by a volunteer civilian chaplain to Camp Meade, a retired priest from the Diocese of Maryland, The Rev. George Washington Dame, jr.
Mr. Dame, the son of an Episcopal priest, also named George Washington Dame, was born in Danville, VA, where his father was rector, on July 21, 1855. (Two more sons of Mr. Dame, sr., also became Episcopal clergy – Nelson Page Dame, and William Meade Dame, who served as rector of Memorial Church, Baltimore from 1878-1923. Succeeding his father as rector of Memorial Church was William Page Dame, who served, first as assistant to his father from 1909, then as rector from 1923-1927.) George Washington Dame, jr., served as a civilian chaplain during World War I, and was sent by Bishop Murray to Camp Meade in 1918, to assist the chaplains at the camp hospital and at the newly-constructed Epiphany House in Odenton. He submitted a brief article about the flu epidemic to The Living Church, which began publishing in 1878 as the newspaper for the Diocese of Chicago, and it is from this that we retrieve the following:
Article from The Living Church by George Washington Dame, jr

"On September 23rd. the Bishop of Maryland delegated me to report at the Epiphany House, Odenton, MD., and to assist the Rev. Benjamin N. Bird in the work there and at the Base Hospital at Camp Meade. Two or three days after my arrival the Rev. Mr. Bird was stricken with the influenza and was persuaded to go to his home in Pennsylvania. Already the scourge was assuming ugly proportions at Camp Meade, and the Rev. James M. Magruder, D.D., a member of Epiphany House staff and acting chaplain of the Base Hospital, was being overwrought there. Whereupon I went to his assistance, daily visiting the wards which rapidly filled with stricken men."
"The doctors and nurses, in white robes and masks, …buckled down to their livid tasks…For two weeks or more influenza victims came pouring into the base hospital, and the accommodations of the wards were stretched to their utmost capacity, many other places being also used as temporary quarters for the sick. Night and day, nurses, doctors, and chaplains toiled unceasingly. Four nurses, one doctor, and one chaplain gave their lives in this great task of ministering to the sick, and the toll of dead reached to 800 men, who made the supreme sacrifice for their country. Those who remained fought on undaunted by the dangers and the fate of their comrades."
"Several times I went over to the Red Cross recreation hall, where were gathered many sorrowful groups of people waiting to see the last of their boys alive, or to learn where they could get possession of their beloved dead. I stood before the fireplace and held short services and addressed them in words appropriate to the occasion. Never before was the old story of the Resurrection told to more willing ears. One old gentleman tottered up to me after one of these services and said in a very tearful voice, 'I have been preaching the message of consolation to broken hearts for fifty-five years, and it never sounded so eloquent as it did today – because I needed it myself. I am waiting to take my only son's body to my home.'"
Although the Rev. Mr. Bird did contract the flu, he recovered and came back to Camp Meade, where he stayed until January of 1919. Epiphany's scrapbook contains an undated memo from Mr. Bird, which lists G.W. Dame as part of his staff, inviting soldiers to services. "Dear Friend, We are going to resume our Camp Services in the main auditorium at 8:30 A.M. I am particularly anxious to see all the men at this Service as I have been away sick and we have had no opportunity of meeting together on account of the epidemic until last Sunday. Remember our Club House, one square from the railroad station at Odenton, and let us know if any of you are still sick."
The 1918 flu pandemic rang up a death toll worldwide of over 50 million people, far more than the estimated 16 million felled by World War I. Young soldiers were especially hard hit, and, as we are seeing in today's crisis, many care-givers stepped up to embrace the challenge of seeing to the needs of the victims. George W. Dame, jr., was 63 years old and already retired from active ministry, yet he volunteered to "daily visit the wards which rapidly filled with stricken victims" and assist younger clergy who ministered in the midst of the epidemic. An anonymous layman reported to Bishop Murray, referring to Camp Meade, that "our Church was doing a great work, and that our men in the hospitals are facing death every day. The work they are doing now during this epidemic is the most splendid and heroic achievement." One hundred years later, we still can read these words with understanding and compassion.
Click here to see more photos of Camp Meade from the WWI era.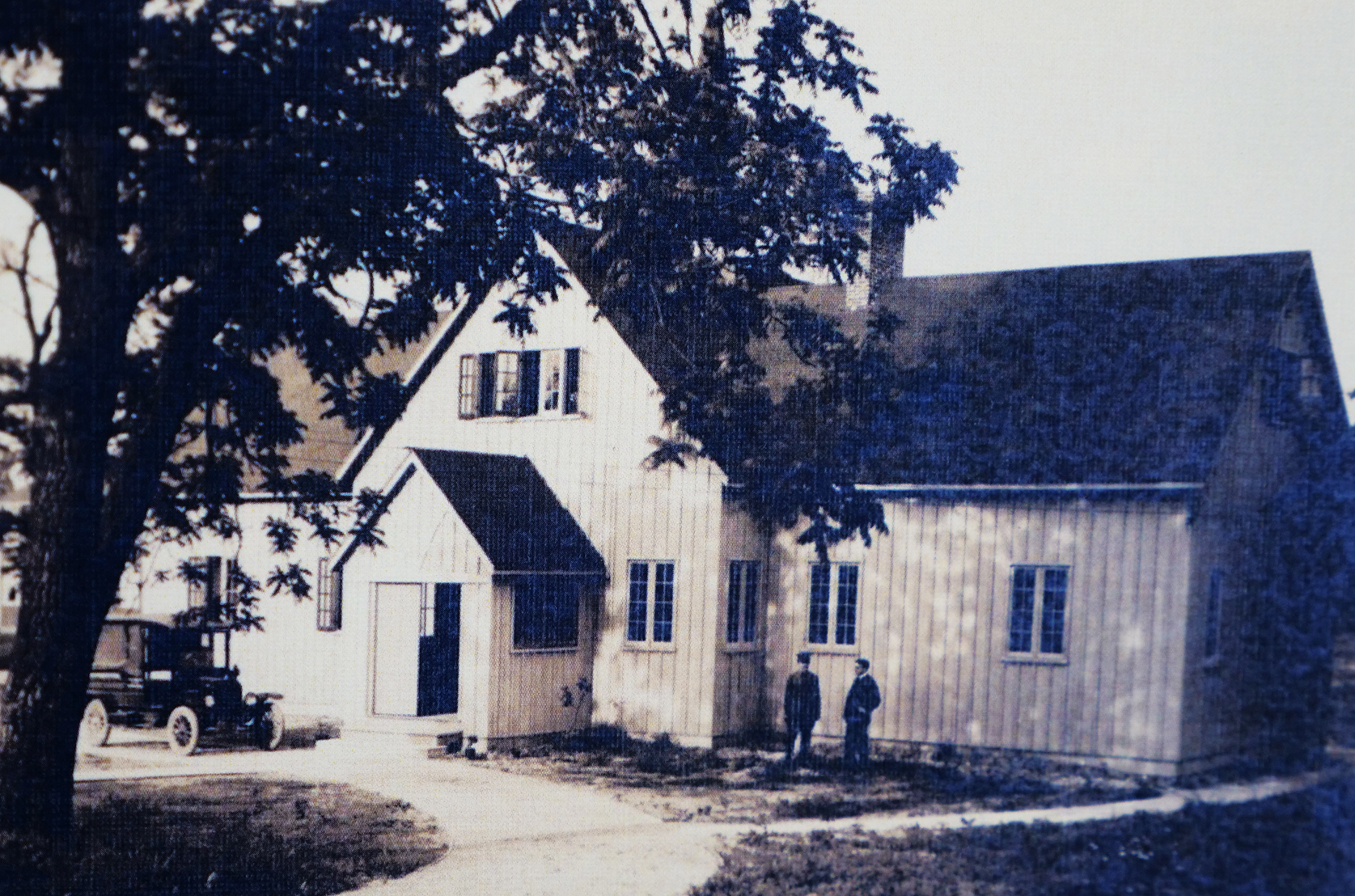 Epiphany Chapel and Church House, 1918