Confirmation record in Bishop Paret's journal, January 21, 1885
William Paret was elected Bishop of Maryland in 1885, the end of the Civil War was only twenty years distant. The Federal government removed all Federal troops from the former Confederacy by 1877, allowing the reconstituted South to handle race relations. Even among respectable scholars, biologists, journalists, sociologists, anthropologists, historians and novelists, the false science that "races" were distinct entities and that the "Anglo-Saxon" or "Caucasian" race was the superior of all was accepted as truth. Intellectual endorsement of racist theories eased acceptance of inferior treatment and exploitation. Northern and new Western states were not exempt from such views, and even the most liberal white persons regarded their attempts to "raise up" the "Negro race" as acts of noblesse oblige.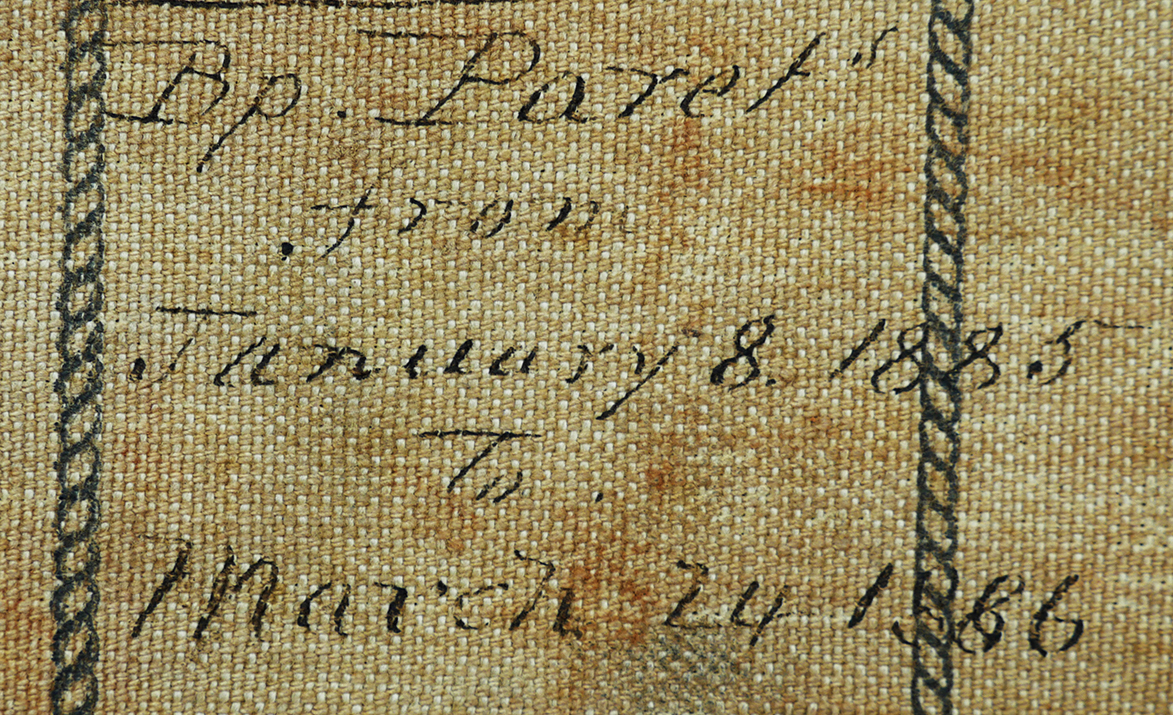 The cover of Bishop Paret's journal, January 8, 1885 – March 24, 1886

Having been born in New York City on September 23, 1826, William Paret attended Hobart College, was ordained deacon in 1852, and priest in 1853. For thirty years he was a parish priest in New York, Michigan and Pennsylvania, becoming rector of Epiphany Church, Washington, D.C. in 1876. On October 30, 1884, Paret was elected Bishop of Maryland to succeed the late William Pinkney and was consecrated January 8, 1885. The new bishop spoke at the African American Chapel of St. Mary the Virgin at a special missionary service only twelve days after his consecration, and the next day attended a conference of laity and clergy to consider "Church Work Among the Colored People." On January 21, less than two weeks after his consecration, he noted in his diary, "My first act of confirmation" at St. James' First African Church, Baltimore. In his very first address to Diocesan Convention as bishop, four months after his consecration, Bishop Paret outlined his aspirations for "the needs and work of the Church among Colored people."
Bishop Paret asked that every Sunday School child in the diocese set aside one penny a month as an offering to the Mission committee for support of "Colored work in the diocese", calling it the Bishop's Penny Fund. His aim was not really to collect money, but to "arouse in the hearts of those who, children now, will soon be the responsible men and women of our congregations." He went on to reflect the accepted stance of the white community. "There are prejudgeses which must be respected; instincts of separation of race which come naturally from distinctions made by God's creating hand; instincts felt as keenly by the colored people as by the whites. And I feel confident that by special and separate services and Sunday Schools for the colored people, judiciously conducted, without forcing or seeking the appearance of that kind of equality from which both classes would shrink, they can win their way to more and more influence with them, and preach the Gospel and minister Christ's blessings effectively and win the support even of those who now look upon all such efforts with doubt and fear."
In his next Convention address in 1886, he said, "It [Colored work] has been very much in my thought. There are eight seemingly permanent centres in fixed congregations. In these there are about thirteen hundred communicants. …All over the diocese, rectors and people are becoming quietly but effectively more conscious of responsibility towards this class of parishioners."
Even with what we today might consider paternalistic attitudes and convictions, Bishop Paret expended time, energy and money to support Black missions and ministries, and kept the topic before the Diocesan Convention. He encouraged men interested in seeking ordination to attend Bishop Payne Divinity School in Washington, D.C., the seminary established in 1878 for the education of African American candidates for the priesthood, since the closest institution for the training of clergy, Virginia Seminary, in Alexandria, would not admit "colored" students. His goal was to place Black priests in Black congregations. In his first year in office, the bishop established a "Committee on a School for Colored Youths" with himself as chair, to investigate the feasibility of establishing a Diocesan school to educate African American youth in Baltimore. Although the need was great and interest was expressed, there was never enough monetary support "to carry out the scheme." And, in a departure from his predecessors and his successors, Bishop Paret did not single out African American clergy or laity by annotating their names with "colored", but simply named them. He regularly visited the Freedmen's Hospital in Washington, D.C., often confirming patients. Besides attending all the meetings of the diocesan committee for "Church Work Among Colored People", he was on the national church commission for the same purpose, often preaching in other cities about the topic.
In Bishop Paret's 1889 address to Convention, he said, "Of the whole number of persons confirmed (1,854) only 85 were colored people. And when we remember that of the 967,000 population of this diocese, some 250,000 are Colored people, I am sure the question must force itself upon us, 'Are we doing our duty fairly to this portion of those for whom God has made us answerable?' You, dear brethren, are responsible before God for the souls of every black person in your parish, or within the possibilities of your pastoral reach, no less than you are for the white ones. If there is a popular disinclination for it, a distrust, a want of sympathy, these things may make the duty harder, but they cannot release you from responsibility."
In an era when the country was segregated, where black and white citizens attended separate schools, worshipped in separate churches, lived in separate neighborhoods, were even buried in separate cemeteries, Bishop Paret did put himself on the line for his beliefs, giving unpopular directives to his clergy, and keeping the topic in front of the diocese. In the autobiography Reminiscences by the Rt. Rev. William Paret, DD, LLD,, published after the death of Bishop Paret by Bishop John G. Murray, the sixth bishop of Maryland had written, "It may be well here to say something of the Church work among the Negroes. I was, from the beginning of my Episcopate, greatly interested in it. I felt the great need and my responsibility; and I soon found, also, the very great difficulties. Yet with many disappointments, the work grew slowly, and I found among them some very earnest and devout souls." Tragically, Bishop Paret's papers were destroyed in 1936 along with Bishop Murray's, so we may never fully know his "great difficulties" in pushing for the "work among the Colored people." But he did keep the issue in the forefront during his Episcopate (1885-1911), not shying away from making bold statements, tackling problems, facing criticism for a cause he believed he had a responsibility to further. Looking back on our predecessors in the faith and seeing them from twenty-first century eyes, we are often quick to criticize and wonder at their antiquated beliefs and mores, but every little step towards understanding our place in the history of our Church must be for the good. We keep tackling difficult problems, hoping to make strides to bring everyone fully into the family of God.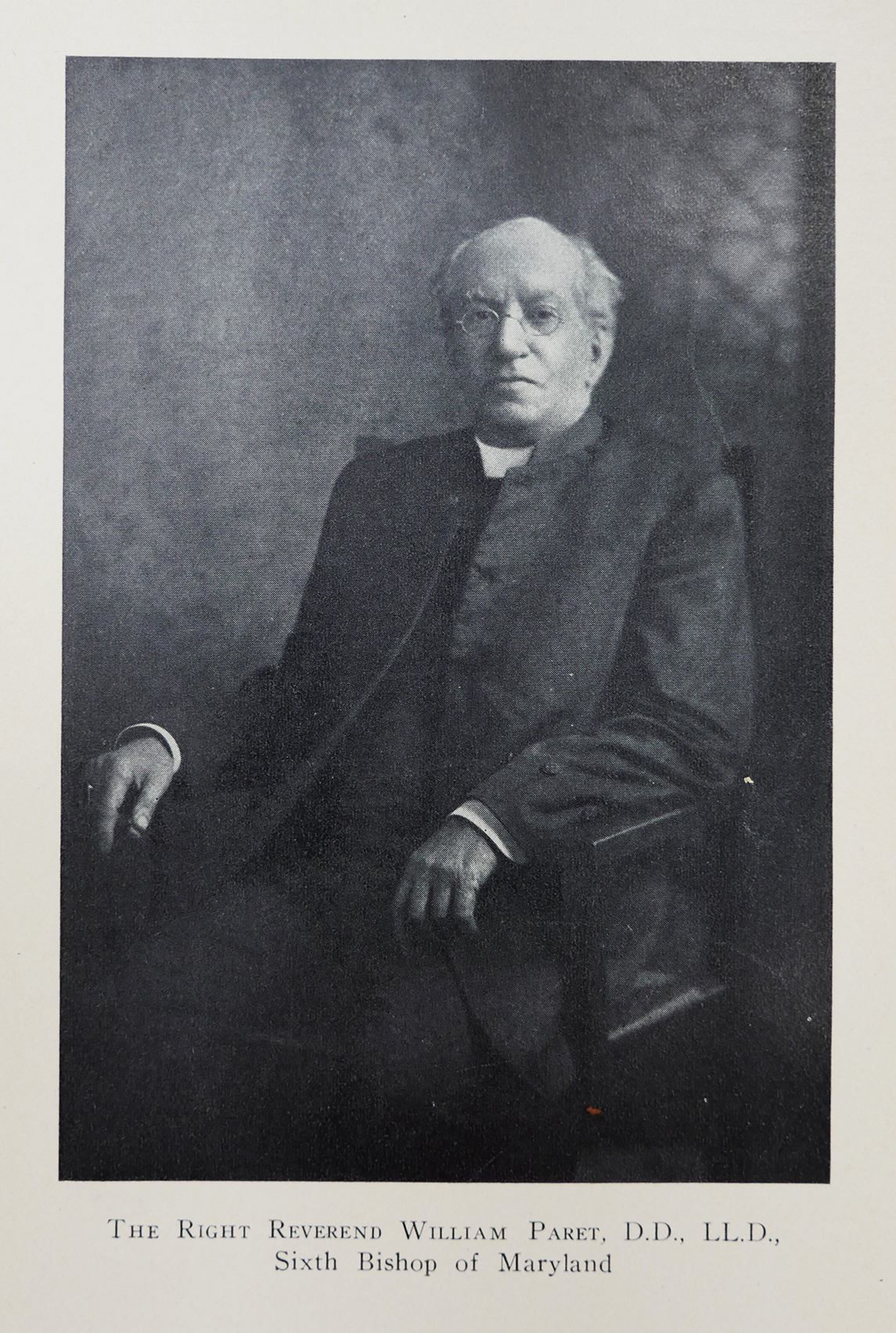 Photo of Bishop Paret from The Maryland Churchman, February 1911