Excerpt from Executive Council meeting, December 5, 1966
by Mary Klein, Diocesan Archivist
St. Philip's parallel mission in Cumberland was Holy Cross Chapel, which had been founded at the same time as St. Philip's, 1891. In 1957, both Holy Cross and St. Philip's were served by the Rev. William Cox as Vicar, with Bishop Powell technically being the rector. The 1957 parochial statistics showed that St. Philip's counted 110 people as baptized person, and Holy Cross, 208. A new church building was erected for Holy Cross in 1961, and a new vicarage was planned. The 1961 parochial financial statistics showed that Holy Cross had $11,250 of floating debt, and St. Philip's had none.
A letter of March 29, 1962, from the Rev. William Cox to Paul Holland, the chairman of the Business Committee, said that Cox had searched the deeds for St. Philip's Chapel and learned that Emmanuel, Cumberland held the deed to the property. He went on, "I take this to mean that the property belongs to St. Philip's, but because they have no standing under the law to hold property as a corporation, Emmanuel holds it in trust for them. I am sorry to say that I have had no more success with St. Philip's on the matter of transfers. Those who are still there are insistent in staying where they are, and following the Bishop's advice, I have not tried to force them into it…and while they are glad to know that Holy Cross says, 'Come on over', they would rather not."
Bishop Powell certainly knew of the overtures to unite Holy Cross and St. Philip's, since he was the official rector of both churches, and William Cox had been appointed by him. Harry Lee Doll, who became diocesan bishop in 1963, noted in his diary for September 19, 1965, while in Cumberland, "Had dinner at the Shrine Club with the Advisory Boards of Holy Cross and St. Philip's Churches."
Samuel Denson family reunion

On January 21, 1966, Paul Holland wrote to William Wilson of Emmanuel's vestry, "Our records indicate that the deed for St. Philip's church property on Smallwood Street and a small trust fund are held by Emmanuel Church, in trust for St. Philip's and that Emmanuel has no financial interest therein. The time is approaching when full integration of St. Philip's and Holy Cross will come about. At that time, the old property may be disposed of and proceeds used to help out Holy Cross, which, as you know, is heavily burdened. There should be no objection… since St. Philip's and Holy Cross are Diocesan missions wholly under the direction of the bishop"
On February 12, 1966, Holland again wrote to Wilson that St. Philip's "title should be transferred to the 'Convention of the Protestant Episcopal Church of the Diocese of Maryland', our legal name. When, if and as Bill Cox can bring about complete integration of his two churches, we can dispose of this property and lift some of the burden now on Holy Cross."
St. Philip's church service register shows that on October 9, 1966, 20 people attended a "parish meeting for purpose of determining future of St. Philip's", and on November 1, All Saints' Day, the last Holy Communion service was held at St. Philip's with 51 in attendance.
Although not discussed in any previous Executive Council meeting, at its meeting of December 5, 1966, the Rev. William Cox was in attendance, and the fate of St. Philip's was sealed. "St. Philip's, Cumberland, will be closed and the building deconsecrated on December 15th. Several years ago the people of Holy Cross invited those of St. Philip's to worship with them and some of them accepted. In the past, the Chapel has drawn members from Pennsylvania and West Virginia, but as churches in those areas also integrated, size of St. Philip's congregation decreased to the point that closing the chapel was the only reasonable thing to do. The Rev, Mr. Cox, vicar of Holy Cross and St. Philip's , moved that the corpus of the endowment fund of St. Philip's be transferred to Holy Cross to help the congregation carry the increased financial burden brought about by the close of St. Philip's. This fund and one for Holy Cross were established years ago by Mary Perry Evans…The motion was adopted. Mr. Cox then moved that the proceeds from sale of St. Philip's Church building and contents be added to this endowment fund, income to go to Holy Cross. This would enable Holy Cross to be self-supporting and to make regular payment of rent to the diocese, thus reducing the diocesan investment in Holy Cross for use elsewhere. After discussion, the motion was withdrawn. The council authorized the sale of the real and personal property known as St. Philip's Church, proceed to be held in escrow until decision is made as to disposition."
Only ten days later, on Thursday, December 15, 1966, Bishop Doll's diary entry read, "Worked at my desk until time to leave for Cumberland. I was scheduled to deconsecrate St. Philip's Church in Cumberland, which I did that evening. Delia and I stayed overnight with the Rev. and Mrs. William Cox, in the new vicarage." St. Philip's church and property were sold on April 9, 1969, for only $5,000. The buyer's purpose was to "raze the building and use land for their sewer line".
While members of Holy Cross may have seen the closing of St. Philip's as a merger of the two congregations, resulting in an integrated church, some members of St. Philip's may not have viewed the events with such equanimity. In 1991, the 100th anniversary of the founding of both St. Philip's and Holy Cross, attempts to foster healing were made in the celebrations of the centenary. A service of Holy Communion was celebrated on St. Philip's Day, April 28, with two African American clergy in charge, the Rev. Robert Powell, of St. Philip's, Annapolis, and the Rev. Carl Wright, who was serving at Emmanuel, Cumberland, and is now Suffragan Bishop for Armed Forces and Federal Ministries. The Cumberland newspaper carried histories of the two congregations, with accompanying photos and schedules for the celebrations. Further attempts at unifying and reconciling came about under the leadership of the Rev. Roland Bonadie, the deacon, then priest in charge of Holy Cross beginning in 2005. At the 2010 Diocesan Convention, the name of the congregation was officially changed to Holy Cross-St. Philip's, and the former rectory was named the Denson-Perry House in 2011. Despite attempts to revitalize the newly named congregation, the efforts failed to guarantee a thriving church, and the final closure of Holy Cross-St. Philip's was announced in 2014.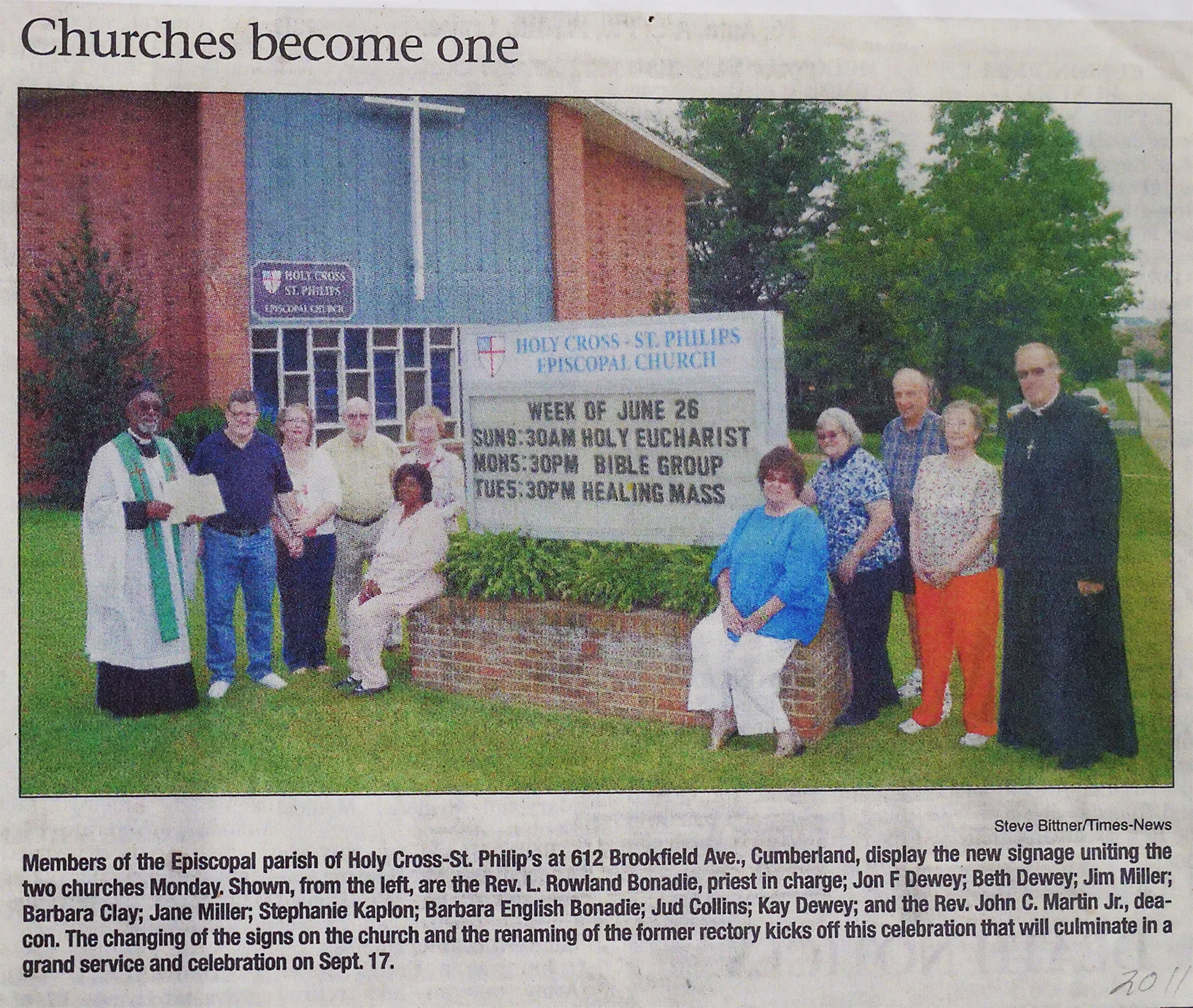 Churches Become One newspaper article