Excerpt of a letter from the Rev. James Lloyd Breck to Margaret Whittingham, September 6, 1850

By Mary Klein, Diocesan Archivist
James Lloyd Breck, priest, missionary and "Apostle of the Wilderness" is commemorated in The Episcopal Church's liturgical calendar on April 2. Breck had a long and close relationship with Maryland's Bishop William R. Whittingham, whom he first met in 1838 at General Theological Seminary, where Breck was a student and Whittingham taught Ecclesiastical History. Whittingham's influence was strongly felt among certain of Breck's classmates who shared his desire to live a disciplined and ascetic religious life.
Born in Philadelphia in 1818, Breck attended, from the age of 14, the Flushing Institute on Long Island, a boarding school run by the well-known educator and priest, William Augustus Muhlenberg, with whom Bishop Whittingham also had a close relationship. Not only was Muhlenberg rector of the Church of the Holy Communion in New York City, he oversaw the Flushing Institute and St. Paul's College, the Upper School of the Flushing Institute, and the earliest correspondence between Whittingham and Muhlenberg dates back to 1829. Whittingham conferred with Muhlenberg as he organized St. James' College, and modeled his diocesan college on Muhlenberg's design of strict discipline and classical curriculum.
James Lloyd Breck graduated from the University of Pennsylvania in the spring of 1838, and that fall entered General Theological Seminary, where Whittingham's influence began. By the age of 16, Breck had dedicated himself to the sacred ministry, and the strict discipline he underwent at Flushing, which served as the backbone of his spiritual life, helped him to survive the hardships he would later encounter in the wilderness of Wisconsin and Minnesota. Whittingham was only 33 years old when Breck first met him, much younger than the other teachers, and his church history lectures were apparently filled with enthusiasm and life. Not only was Whittingham greatly admired for his wide-ranging education, but for his piety as well. As Whittingham taught about the early church's conversion of the tribes in northern Europe during the seventh, eighth and ninth centuries, Breck and a few of his friends were inspired to do the same in America's new frontier, the Western territories of the United States.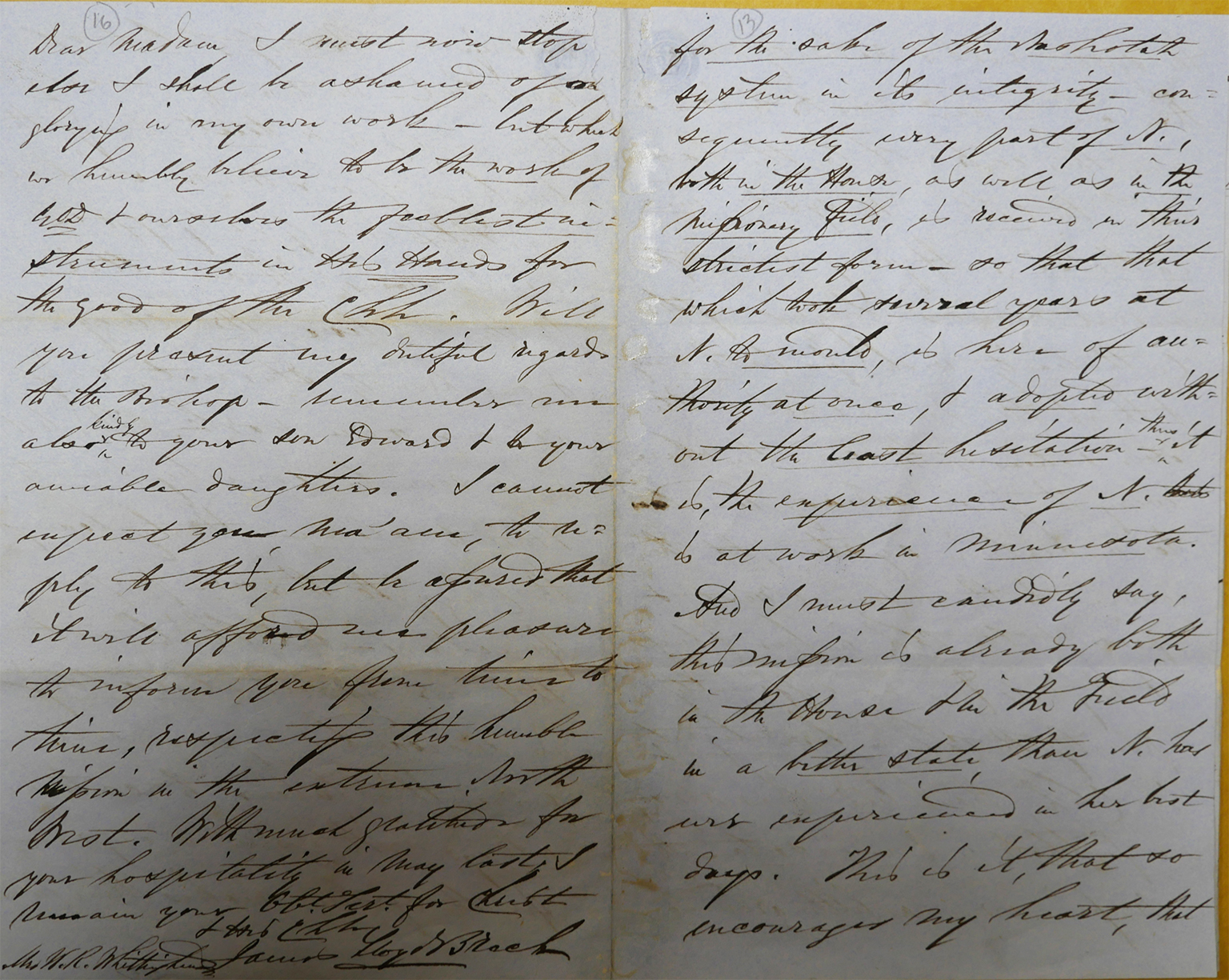 Letter from the Rev. James Lloyd Breck to Margaret Whittingham, September 6, 1850
The Episcopal Church had consecrated its first Missionary bishop, Jackson Kemper, in 1835, with his jurisdiction encompassing Iowa, Wisconsin, Minnesota, Nebraska and Kansas. Following one of his visits to General Seminary soliciting funds and missionaries in 1840, seven students at the seminary, in their second year, began to seriously consider forming some sort of semi-monastic association and venturing to the West. They consulted Whittingham with their idea of going as a company, in strict obedience to the Missionary Bishop, pooling all their earnings, living in celibacy, teaching school and founding a library. Whittingham cautioned them against acting precipitously, against relying on their own plans instead of the will of God and making rash promises. He proposed "Five Principles", which would become the basis for the founding of Nashotah House in Delafield, Wisconsin, a seminary of The Episcopal Church. The principles included remaining unmarried for as long as they were part of the society they'd planned; fully obeying the Rule they wrote and obeying the bishop they served under; living in community, sharing goods, assets and labor; always teaching catholic principles; and preaching the gospel on circuits directed by their bishop. He also helped them to write a devotional liturgy, used every Friday afternoon, which, according to Breck was "intended to bind together the interested students into a single unit so that upon graduation, their lives would be linked by the common supplication of God for the success of their efforts." One of Whittingham's most important pieces of advice was to contact Bishop Kemper to see if he would sponsor their plan. Throughout 1840 and 1841 the men wrote to the bishop and he agreed to sponsor them.
When the band of would-be missionaries graduated from seminary in 1841, three of them were able to actually take up the work they had planned. Some men were forbidden by their bishops to go, but James Lloyd Breck, William Adams and John Henry Hobart, Jr. set out for Wisconsin as soon as they were ordained deacons. Bishop Benjamin T. Onderdonk of New York ordained Adams and Hobart on June 27, and Breck was ordained on the Fourth of July 1841, by Bishop Henry Onderdonk of Pennsylvania. These three as well as another of the original seven, James W. Miles, kept up their correspondence with Whittingham for many years, seeking advice, relaying adventures and asking for support.
Bishop Kemper believed that to minister in such a wild and vast country, men should be trained in the West and be prepared for "self-denial, toil and suffering." With the establishment of Nashotah House by the three deacons and their own commitment to communal living and ministering to the people of the wilderness, Kemper's vision of training men for missionary work was begun.
On September 6, 1850, James Lloyd Breck wrote a letter to Bishop Whittingham's wife, Margaret, thanking her for her hospitality in May and relating some of his adventures in Minnesota since leaving Nashotah House, which he said, "was trying." A little Mission House in St. Paul had been built, which he describes: "This mission owns a little ground bordering on the city plot of Saint Paul. We lived for nearly three weeks in a tent, during the building of our House, which nevertheless is only 12 by 17 feet in dimensions, with an attic. In this we live, three clergymen and our Divinity student, doing all our own work."
It is often said, perhaps as a joke, that The Episcopal Church went west with the Pullman car, implying luxury and comfort. But the 1850 letter from Breck tells a totally different story of the first missionaries for The Episcopal Church in Minnesota. Describing his forays into Minnesota with two other clergymen, Breck says, "If the walking tours of circuits from thirty to above one hundred miles & this in the extreme heat of summer are any judge, they perform these without a murmur. We have been kept out overnight by losing our way in uninhabited parts of the country, where we have had to sleep on the ground, whilst the rain has been pouring down violently – having umbrellas & a fire for our only protection…"
Describing the capitol of the territory, St. Paul, Minnesota, Breck explains that it is, "directly opposite the country inhabited by Sioux Indians. These red men are to be seen in our streets every day & incite no surprise…There were fifteen hundred of them gathered together last week within six miles of us. The Gov't forbids the white man crossing the river even to make the least settlement. We must therefore be near neighbors, until a Treaty can be effected which will oblige them to retire yet further towards the setting sun."
After listing the missions he has already established in Wisconsin, St. Croix, Willow River and La Crosse, Breck then adds his Minnesota missions to the list: "St. Paul, Stillwater, Cottage Grove, Point Douglas, Falls of St. Anthony [early name for Minneapolis] & Marine Mills on the St. Croix River." Laying out his further plans, he continued, "We hope shortly to go up the Mississippi eighty miles to the Sauk Rapids… We shall then have gone over all those parts of the Terr. as yet settled. It is hoped that the Church will then keep pace with tide of emigration & retrieve her character as the frontier Missionary Church." With a state population of merely 6,077 people in 1850, Breck's outreach to the settlers of Minnesota was quite wide spread.
Two years later, Breck established missionary, agricultural and educational centers among the Ojibwe people in Minnesota, studied the Ojibwe language and commissioned the Prayer Book to be translated into that language so that converts could worship in their native tongue. Breck baptized Enmegahbowh, a native Ojibwe leader, who would go on to become the first Native American to be ordained priest in the Episcopal Church in 1867. Enmegahbowh is honored in the church's commemoration of saints on June 12. James Lloyd Breck became known as "The Apostle of the Wilderness" for his pioneering missionary work in the western United States, but he was called Makuhdayakuhanaya by the Ojibwe people which meant "Black Robe" or "Man in the Cassock."
In his 1850 letter to Mrs. Whittingham, Breck reminded her that the missionaries had no support from the Domestic Mission Society of the church, nor any "aid from the East in any form" but were encouraging the new missions to be self-supporting. "If we can make the people a working community for the Church, we feel well assured that they will support the clergyman after a little time. How glorious it is, dear madam, that already here in the very wilderness on the waters of the Father of Waters, daily services of the Church & weekly & Saints' Day eucharistic sacrifice should be continually celebrated!" Inspired and encouraged by the ideals of Muhlenberg and Whittingham, Breck and his band of intrepid missionaries laid the groundwork for the expansion of the Church in the newly opening regions of the West.