Research Notes & Maryland Miscellany by Mary Klein, Maryland Historical Magazine, Vol. 87, No. 4, Winter 1992
by Mary Klein, Diocesan Archivist
As rector of Somerset Parish, the Rev. Alexander Adams wrestled with the moral question of the salvation and Christianization of slaves. With so few Anglican clergy on the Eastern Shore of Maryland, The Reverend Mr. Adams served one parish then another in Somerset County during his long ministry. In 1724 he had been a "Missionary to the Plantations" for twenty years. Among the problems facing him were inadequate pay, poor housing, a parish fifty miles long, four-hundred families scattered along those fifty miles, difficulty in buying wine for Communion, and no altar on which to prepare the sacrament. Mr. Adams had responded to the call for missionaries in 1704, only three years after it was issued by the Society for the Propagation of the Gospel in Foreign Parts (SPG). Formed in 1701 to encourage missionary work in the British colonies and promote the conversion of the natives, the SPG sent a questionnaire to its missionaries in 1724. One of the questions was, "Are there any Infidels, bond or free, in your Parish and what means are used for their conversion?" To this Adams replied, "There are Indians & Negro slaves. Some Negroes are baptized after instruction in the Church Catechism & frequent the public worship. No means used to convert the Indians; their language unknown to us."
Since the Establishment of the Church of England in Maryland in 1692, the tax-supported clergy had struggled to organize broad expanses earlier cultivated by itinerant Methodist preachers and the Society of Friends. A huge piece of land originally stretching from Maryland's border with Virginia north to Delaware, Somerset County embraced four parishes – Somerset, Coventry, Stepney, and Snow Hill. A June 1694 report to the governor noted that although there were four parishes laid out, there was "never a church". By 1724, however, a building had been raised in each parish. Adam's job of attending to the needs of Anglicans and converting the "infidels" was hampered by geography, cold, heat, mosquitoes, and apathy all around. The Bishop of London, who had oversight of the pioneer churches, was constrained by political pressures from sending anyone to lead or organize these ventures, and slave owners were either unconcerned about the conversion of their slaves to Christianity, or afraid of whether they would be freed if baptized.
Although the Anglican Church was among the first in the colonies to work towards slaves' conversion to Christianity, the question of whether baptism brought slave freedom was not clear in the minds of either clergy or slaveowners. A 1664 Maryland law stated that baptism had no effect on the status of a slave, and in 1727 the Bishop of London instructed his missionaries accordingly. "Christianity and the embracing of the Gospel does not make the least alteration in Civil Property… The freedom which Christianity gives is a freedom from the Bondage of sin and Satan… But as to their outward Condition, whatever it was before, whether bond or free, their being baptized and becoming Christians makes no manner of Change in it."
Families were responsible for the education of their own children and slaves alike and were encouraged to fulfill their duty to teach them, but slave owners were slow to bring their slaves for baptismal instruction. In 1730, the Bishop of London did send a visitor to the clergy on the Eastern Shore, the Reverend John Lang, to encourage, admonish and examine credentials. In a speech at the opening of the clerical conference on 24 June, Lang chastised the attendants for neglecting "the Instruction of Negroes". "It cannot be denied that they are part of our cure, & that we shall be accountable to God for the discharge of our duty to them." Although he did not expect the clergy to become schoolmasters to them, he did "seriously & passionately exhort Masters & Mistresses to teach and instruct them or procure others to do it for them… Their own salvation depends upon the faithful discharge of it…I cannot give myself leave that any Master or Mistress will be so barbarous as not to engage in this laudable design."
Adjoining Adams' parish in Somerset County was Coventry Parish, served by the Rev. James Robertson, who worked there from 1718 until his death in 1748. In his answer to the SPG inquiry concerning infidels in his parish, he replied, "There are Indians whose language we don't understand & there are negro slaves whereof some come to Church & are baptized & others who neither by their own consent nor their masters are willing to be baptized." This answer indicated that not only did some masters keep their slaves from baptism, but that some slaves refused to be baptized. Both Adams and Robertson seemed matter-of-fact about slaves joining their masters at public worship, being instructed in the Christian faith, and receiving the sacrament of baptism. There did not seem to be any idea of keeping Blacks from worshipping with the rest of the Congregation. It is difficult to know if the slaves who chose baptism believed the teachings, or were forced into Christianity by their masters. Robertson's observation hints that adult slave baptisms were voluntary. In a series of sermons in 1750, another Maryland clergyman, Thomas Bacon, expressed concern over the Christian slaves' redemption. "These baptized slaves were often living in as profound Ignorance of what Christianity really is (except as to a few outward Ordinances)", he said, "as if they had remined in the midst of those barbarous Heathen Countries from whence their parents had first been imported." At least some people, therefore, thought that even the slaves who had been baptized still clung to African religion.
As part of their role as the Established Church, Anglican clergy were required to enter all births into the parish register within two months, but baptisms rarely appeared along with births. Parish registers became a legal tool to keep track of births, deaths, marriages, and the names of those who had paid their taxes for the upkeep of the church and clergy. (When Blacks appeared in the church records, they were identified as "free negro", "slave", "mulatto", "servant" or "colored".) In 1703-1705 the records for Somerset Parish listed the births of three slaves owned by the Denwood family. In January 1703, Frost, and in April 1704, Bess, were born and belonged to Arthur Denwood. In 1705, Domway, belonging to Levin Denwood, was born. Baptism was not mentioned alongside the names of anyone born during that time. After 1817, the parish listed baptisms along with births. The rector at that time was the Reverend William Wickes. Perhaps he was a better record-keeper than his predecessors, and perhaps he encouraged baptism among Blacks, because in 1817 and 1818 alone, Wickes registered seven baptisms of slave children and four baptisms of free Blacks. The records give us each child's name along with birth and baptism dates; the parents' names were noted, but not the names of the owners. In a typical slave baptism entry, "Susan, daughter of slaves Job and Tilla was born December 10, 1818, and baptized June 1818." Entries for free Blacks listed surnames: "John Henry, son of Simo and Rose Ballard – negroes – was born September 17, 1818, baptized same time." In 1822, the rector wrote a heading on one of the register's pages, "Baptisms by the Rev'd. Joseph Covell", but listed only births, raising questions about earlier birth entries. Where baptisms administer at the same time as births, as in previous birth entries? It is impossible to say. One entry is particularly interesting: "Sarah Ann, daughter of slaves Abraham and Sarah, his wife, was born October 10, 1822." Here was the first entry showing the slave parents being married.  (Entries for Whites read "Anne Ayers, daughter of Henry Hyland and Harriet his wife…") Abraham and Sarah's sons were noted under "births" in 1824 and 1826.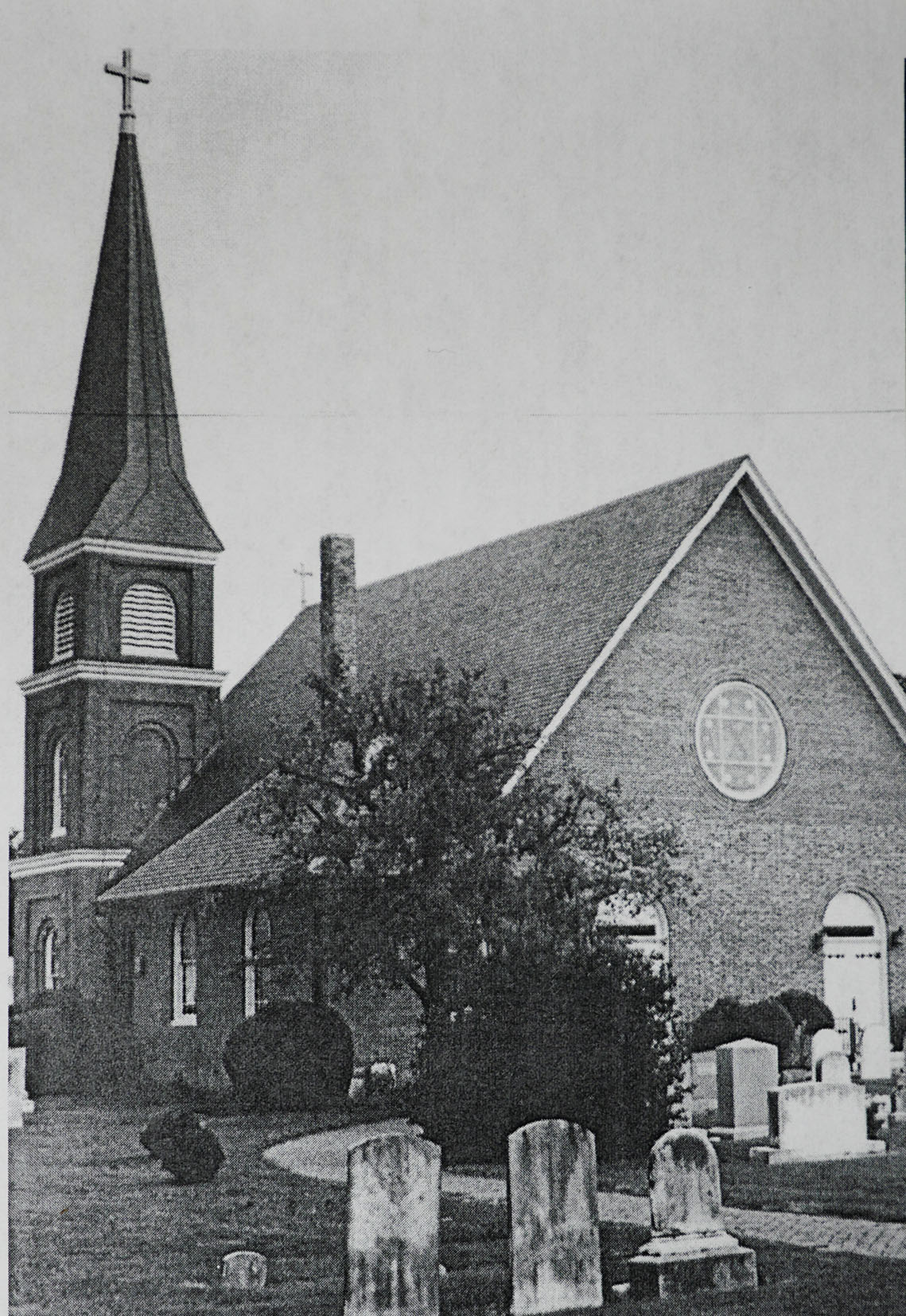 St. Andrew's Church, Princess Anne, Somerset Parish
Were Somerset Parish's neighboring Anglicans also baptizing slaves and free Blacks in this period? Unfortunately, in 1834, Snow Hill's early records were lost in a fire. Coventry Parish's hand-made book of leather-covered wood continued only one entry for Blacks. "Betty – at George Bosman's, a mulatto, born September 10, 1724." Between 1737 and 1763, Stepney Parish (at Green Hill Church) listed the births of only a few mulattos. A woman designated "the Mulatto Sue, alias Sue Magee or Games", gave birth to five children between 1741 and 1754. "The Mulatto Rose, or Rose Game, alias Magee", mothered two children, born in 1737 and 1751. "Mary Dutton (mulattoe)" had two children, one in 1759 and the other in 1762. No other births of free Blacks or slaves were listed. Undoubtedly record-keeping was careless, but Somerset Parish seems to have been unique in the county when it came to the baptism of slaves and free Blacks.
Even if slaves were being baptized, one wonders if whites welcomed them into the life of the parish. Slaves did attend worship services; St. Andrew's Church of Somerset Parish in Princess Anne still retains the original slave gallery built in 1770, when the church was erected. During the Colonial period, there being no American bishops in the church, and none sent from England to ordain clergy or confirm lay people, to be listed as a "communicant in good standing" meant that one had been baptized and prepared for confirmation, but not yet confirmed. Were African Americans so listed? In 1790, before he became the first bishop consecrated on American soil, the Rev. Thomas J. Claggett was rector of St. James' Parish, Herring Creek, near Baltimore. On Easter Day, Claggett drew up a list of communicants of the parish. "There are 48 whites and 13 negroes, total 61", he wrote. "The list of 'Black brethren communicants' include two servants of Mr. Claggett." The following year, Black members of the parish asked for a piece of ground to use as a cemetery. The vestry gave it to them, provided they fenced it in themselves. At St. James', it seems that the African Americans were incorporated into the life of the church and seen as full members in good standing, even if they could not be buried in the churchyard reserved for Whites.
Bishop Claggett confirmed more than two thousand people in the first year his episcopate and made his first visit to Somerset Parish in 1795, when he confirmed seventy people. There was no indication that any of them were Black. An 1805 parish register entry listed 131 Somerset Parish church members – "those persons who have subscribed to the canons of the P. (Protestant) E. (Episcopal) Church.". On the preceding page appear the names of 29 slaves and 2 free black women. All were listed by first name only, in one column, followed by "property of" and their owner's name in the adjacent column. In the "owner" column "free" is written beside the names "Nanny" and "Tabby". "Communicants" is written at the bottom of the page. One must assume that everyone listed as a communicant had been baptized and was at least a teenager, if not an adult, since children did not receive communion until "the age of discretion", when they could be prepared for confirmation. An earlier list of Somerset Parish communicants in 1796 listed no Blacks at all. The rector must have been a determining factor in drawing up the list. It was, and is, the custom of the Episcopal Church to receive communion wine from a common chalice. Are we to assume that Blacks and Whites, slave and master, drank from the same cup?
There are many gaps in the Somerset Parish records, sometimes due to clerical vacancies in the parish and sometimes due to the rector's complete avoidance of bookkeeping. From about 1825 to 1845, no Blacks appeared in the register as having been baptized. In 1844, when the Rev. Harvey Stanley assumed the rectorship, the registers again were kept current, and the baptisms of many Blacks recorded. Stanley did not list the names of slave parents; he noted instead the names of their owners. The birth date and baptism date were given along with the names of the godparents or sponsors. Usually, the owners were named as sponsors, and sometimes the parents or mother of the slave child as well. The sponsor at an infant baptism had to have been baptized; he or she assumed responsibility for seeing that the child was raised in the Christian faith. We may assume then that the rector considered slave parents practicing Christians when he allowed them to be godparents along with their owners. Did these baptisms take place in the church or at the home of the slaveholder? In some cases, "private" was noted in the register, and those probably took place in homes. But most entries have no such notation. Did the vast majority take place in church?
On 1 January 1846, Dr. Henry Hyland's infant daughter Anne Ayers Hyland was baptized at St. Andrew's Church, Princess Anne, Somerset Parish, along with six slaves, aged sixteen years to fifteen months. Mrs. John Smith was Anne's godparent, and Dr. Hyland served as sponsor for his slaves. In 1849, Dr. Hyland's brother, the Rev. William Hyland, must have been visiting Somerset Parish because he administered baptisms and performed two marriages. On 3 September 1849, the Rev. Mr. Hyland married "Littleton Henry Maddox and Henrietta Susan Steward, along with Zaddock Maddox and Jane Jones. The parties were all colored." We may assume they were all free persons of color, because surnames were given for everyone. In 1850 and 1860, separate entries in the Federal census listed slaves and free persons, and the 1850 count for free persons showed that Dr. Hyland's household consisted of himself (aged 63), his wife Harriet (aged 47), nine children and Littleton Maddox, aged 30, a Black oysterman, presumably the same person referred to in the marriage record. The slave census showed that Dr. Hyland owned seven female and nine male slaves. Somerset Parish records show that in 1849 "his woman Anne" brought two daughters for baptism and "his man Henry's son" was baptized by Dr. Hyland's brother. The only other baptism involving African Americans associated with Dr. Hyland was Henrietta and Littleton Maddox's son James. The parents and Dr. Hyland acted as sponsors. Dr. Hyland owned three slave women of childbearing age in 1850, yet only one, Anne, had her children baptized. The male slaves who were old enough to be fathers added up to four, yet only one chose baptism for his son.
The evidence suggests that in Dr. Hyland's case, at least, slaves were not forced to accept their master's religious practices, but when they did, the master supported them in their choice. But what about other slave owners in Somerset Parish?
William Wilson Johnston, an active churchman at St. Andrew's Church, Princess Anne, Somerset Parish, was a prosperous farmer. For many years elected a vestry member, he left the parish $5.000 worth of City of Baltimore stock "for upkeep of the church" in his 1865 will. He owned eight female and eight male slaves in 1850, and in 1860, twelve females and ten males. Eight church register entries mention W.W. Johnston and slaves. In 1846, two of this slaves were married to slaves owned by other people. Candace married Lyttleton, who belonged to Miss H.B. Hayman; and James married Sylvia, a servant of J.W. Crisfield. Candace's four-year-old daughter was baptized in 1859, her infant daughter in 1862. In 1848, "his man William's" fourteen-month-old son Stephen Cecil was baptized; three years later, Peggy's nine-year-old daughter Sally Jane also received that sacrament. Only one other slave, Ann, was mentioned as the mother of Daniel, who was baptized in 1858, the father being W.T.G. Polk's slave Isaac. Again, although Johnston owned six female slaves of child-bearing age in 1860, between 1858 and 1862, only three of the women had an interest in having their children baptized.
In the years 1846-1857, the Rev. Joseph Nicholson was particularly active in baptizing and officiating at the marriages of slave and free Blacks. He owned slaves himself, a fourty-five-year-old man, a thirty-year-old woman, seventeen and seven year-old girls and a four-year-old boy. Nicholson baptized no fewer than sixty-nine slaves, both children and adults. He also officiated at the marriages of nine couples, some of whom were slave, some free and some a combination of slave and free. It is interesting to note that "Levin Libby was married to Henny, a servant of Mrs. Ann W. Jones on Easter Day, March 31, 1850, in All Saints' Church, Monie" (The church at Monie belonged to Somerset Parish). "The Sunday after Easter, April 15, 1849, at the Evening service at All Saints', Monie, James Murray, a free colored man & Betty Ann Bounds, a free colored woman" were married. Quite a public display – the marriage of Blacks in the church on Easter Day, and the following Sunday after the evening service!
African Americans were being baptized and married in the church, but confirmation records list no Blacks at all. Confirmation meant full adult incorporation and involvement in the church. If Blacks were not confirmed, they could not vote in vestry elections (which was an option only for "free white males") and most probably could not receive Communion. Blacks were not listed in mid-nineteenth-century communion lists either. One supposes that while the clergy were willing to incorporate Blacks into Christianity by baptism and make a show of Christian marriage, they were not willing to take the step of offering full adult participation in the life of the church for persons of color.
The Right Rev. William R. Whittingham, fourth bishop of the Diocese of Maryland and bishop during the Somerset Parish rectorship of Joseph Nicholson, perhaps represented the view of the day. "The calumny of abolition must be carefully guarded against", he wrote Dr. John Scott, a catechist to a congregation of African Americans on the Eastern Shore, in 1842. "This can be best done by most scrupulous adherence to religious instruction and intercourse with the negroes, and by bringing out fully the bearing of faith on practice, the Gospel rule of Subordination in society, and the compatibility of spiritual privilege with temporal privation, and even oppression." Whittingham always addressed words of instruction to Blacks in church, and in private homes asked for the servants to be called for family prayer. As reported by the Rev. William Brand, a contemporary of the bishop and author of Whittingham's biography, when the single African American congregation in the diocese, St. James' First African Church in Baltimore, petitioned the diocesan convention to be admitted as a parish, the bishop put the request aside. Later, when asked if the black man were not entitled to all the rights as a Christian, Whittingham reportedly replied, "Doubtless, but I do not consider representation in Convention to be a Christian right."
The position of Blacks, slave and free, in the life of Somerset Parish seems to have gone from less to more constrained in the first six decades of the nineteenth century. If the clergy viewed Blacks as their brothers in Christ, they were their younger stepbrothers, needing protection and guidance, and not quite measuring up to full fraternity.
Many of the clergy themselves were slaveholders. The communicants of Somerset Parish must have held widely differing opinions about slavery. Church members included slave owners and non-slaveholders. Some masters took special interest in certain slaves and acted as advocate and patron. At least one colonizationist, Littleton Upshur Dennis, held eighty-three slaves in 1823. His 1833 will instructed his brother John to buy his slave Joseph's wife Nancy and allow then to go to Liberia. He also wanted to give his slave Nelson all his master's personal clothing, twenty-five dollars (about $800 today), and permission to go to Liberia. Dennis made provisions for his slave Levin Miles, his wife Martha and their children to become citizens of Liberia if both of his own children died before age twenty-one and left no heirs.
When one surveys the evidence, reads between the lines and makes reasonable assumptions, it remains clear that between 1692 and 1865, African Americans in Somerset Parish were not fully incorporated into the life of the church. Given the theological thinking of the day on the generally conservative Eastern Shore, perhaps it was impossible to do so. Paternalism could extend salvation to Blacks, but not full brotherhood as Christians. Records are sketchy, inaccurate, missing, and misleading. What we can piece together resembles not a monochromatic blanket, but a complex, many-hued patchwork quilt of a fragment of life in Somerset Parish, Maryland.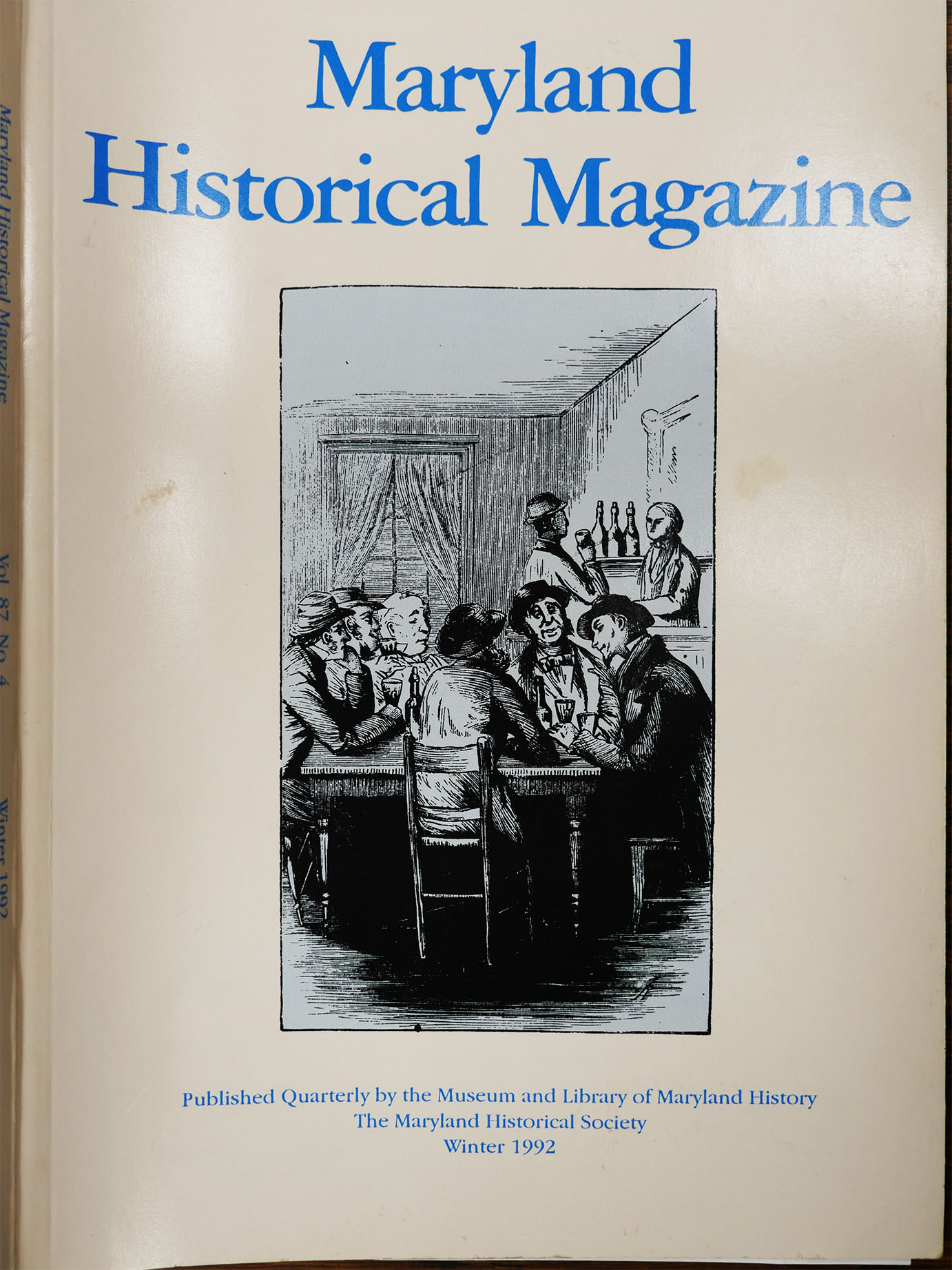 Cover of Maryland Historical Magazine